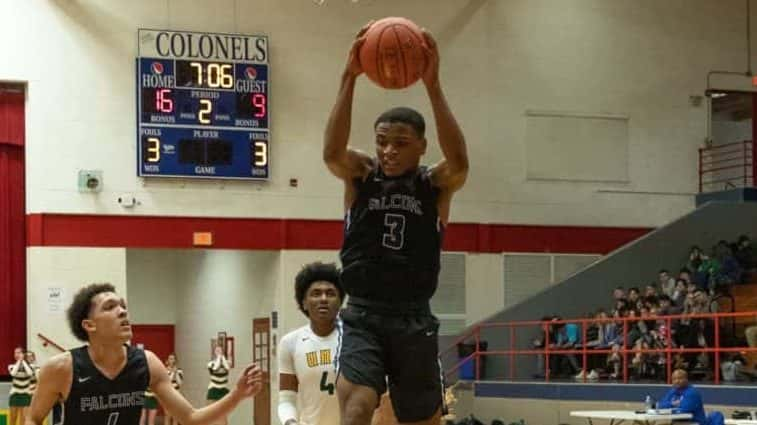 While it was not the season the Fort Campbell Falcons would have liked, there was progress for Coach Robbie Townsend and his crew during the 2019-2020 season. With the Falcons having their highest win total in 12 seasons, and scheduled to return five players who saw game action in at least 22 games, there is reason to expect improvement again in 2020-2021.
The Falcons do lose top scorer Cameron Pratt, along with Brock Elsberry and Dylan Johnson. There is also the possibility Fort Campbell will lose other players due to Army transfers, but at this point, we will operate on a tentative assumption, that those expected to return will do so.
The Falcons finished the season at 9-21, which was their highest win total since 2007-2008, when Fort Campbell finished the season at 14-8. The Falcons opened the season hot, winning five of their first six games, but then struggled from that point forward.
Cameron Pratt led the Falcons in scoring at 16 points per game. He was the only Fort Campbell player to average in double figures for the season. The biggest problem for the Falcons on the season was shooting the ball. Fort Campbell struggled overall (38.9%), outside the arc (27.0%), and at the free throw line (51.7%).
If the Falcons can improve their shooting, there is reason to believe there will be improvement next season, possibly significant improvement. Especially with a core of returning players that includes Jeremiah Holley, Aaron Hall, Ryan Pretlow, KeShawn Daniels, and Nathaniel Massey.
Hall averaged 8.7 points and 3.2 rebounds per game. Holley finished the year averaging 8.5 points and 8.5 rebounds per contest.
Daniels is a high-flying player than can add some excitement to the Falcons' play on both ends of the court, and figures to increase his numbers from the 2.7 ppg and 3.8 rpg of this past season.
Massey and Pretlow will need to bring their numbers up to help offset the loss of production with the graduation of Cameron Pratt.
The big challenge for the Falcons is the big challenge they face every season. That being they reside in the 8th District, along with UHA, Christian County, and Hopkinsville. Which means the Falcons could be significantly better in 2020-2021 and still need a break to advance past the district tournament.
If the Falcons can make progress with their shooting and ball handling during the off-season, they could cause problems during the 2nd Region All A Classic.
Again, with all of this said, a big question during the off-season will continue to be which players will still be on post when the new school year arrives in the fall. And that could well be the biggest factor in deciding whether 2020-2021 is another season of improvement for the Falcons.