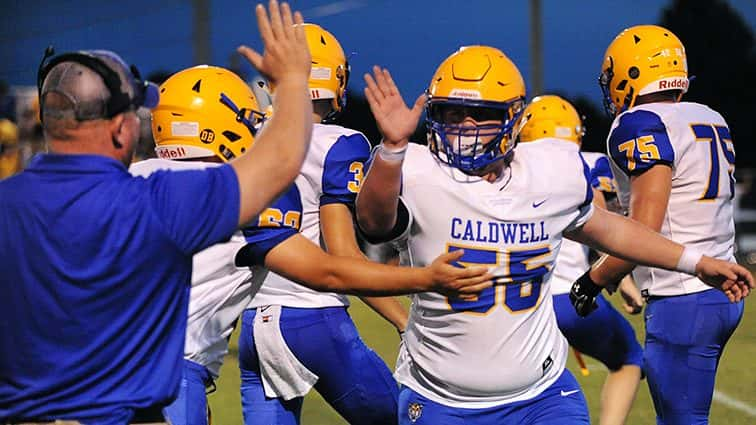 Caldwell County returns a ton of experience from last season's 8-3 squad, leading many to predict big things for the Tigers in 2020.
However, while last year's senior class was small in number, it did have a significant impact on the 2019 season — and those will be some huge shoes to fill if Caldwell hopes to challenge perennial power Mayfield in Class 2A's 1st District.
On paper, the Tigers also have their third head coach in as many seasons. However, the reality is that few things have changed with a coaching staff that has largely been together for over 15 years — giving Caldwell remarkable stability in its program.
Will Barnes takes over the reins this season after Waynee McGowan held the fort as interim head coach last season following the unexpected death of David Barnes just six days before the 2019 regular-season opener.
The younger Barnes had already been running the offense anyway, so don't expect any radical changes to a spread offense that has been putting up big numbers for the last decade.
Quarterback Russ Beshear returns with a year under his belt. Beshear passed for 1,555 yards last season while completing 68.5 percent of his attempts. He had 19 touchdowns and 11 interceptions.
But Beshear also brought a running threat to the QB position, finishing second on the team with 279 yards rushing and four touchdowns.
Caldwell has options behind Beshear as well. Juniors Gabe Dyer and Jack Stevens continue to improve. Senior Tate VanHooser could be a backup plan, if needed, and freshman Landon Davis was quarterback on the middle school team last season.
VanHooser, Tripp Branch and Baron Wells — all seniors — lead a solid receiving corps. Branch caught 29 passes for 423 yards and five touchdowns last year, VanHooser made 29 grabs for 351 yards and six scores, and Wells had 27 receptions for 356 yards and a TD.
The biggest challenge this year for the Caldwell offense will be replacing workhorse running back DeEric Hollowell. Now at Kentucky Christian University, Hollowell ran for 1,304 yards and 22 touchdowns during a stellar senior season in 2019 while also catching 23 passes for 184 yards and four TDs.
Look for senior Travion Samuel and junior Logan Smiley to try to pick up the slack in the backfield. Another player to keep an eye on is sophomore Jamus Carneyhan.
Caldwell's offensive line usually goes unnoticed, but the Tigers are expecting to be improved up front this season. Seniors Dalton Haney and Sam Teutsch help anchor things at the line of scrimmage.
Defensively, the heart of the Tigers last season was Ben Holt. Holt led the squad with 116 total tackles — 57 more than anybody else on the team.
But Holt graduated, leaving a leadership void that guys like VanHooser, junior Elijah Shaheen and junior Drew Davis will try to fill.
VanHooser was second on the team with 59 tackles from his linebacker spot.
Shaheen is an emerging presence up front after leading the team with 8.5 sacks last season. Shaheen has his eyes on Cole Webster's school single-season record 12.5 sacks this year.
Davis had 48 tackles, but regularly drew double teams up front last season, freeing the linebackers to come up and make stops.
Samuel could be a key player at linebacker this season, depending on how much time he sees on the offensive side of the football.
Caldwell should be solid in special teams as well.
Wells returned two kickoffs and two punts for touchdowns last season and averaged over 30 yards on punt returns.
Branch averaged over 30 yards a punt last season.
Junior Blake Vivrette, a member of the Tiger soccer team, was 47 of 49 on extra points a year ago and returns to handle all of the placekicking duties.
Caldwell's revamped 2020 schedule has the Tigers opening the season at home on Sept. 11 against longtime border rival Crittenden County.
The big dates on the schedule are district games at Mayfield on Oct. 2 and against Murray on Oct. 16 in Princeton.
Caldwell hosts Trigg County on Oct. 30 as the schools continue the longest consecutive rivalry on each team's schedules — actually predating consolidation at Caldwell in 1954.
2020 CALDWELL COUNTY FOOTBALL SCHEDULE
Sept. 11 – CRITTENDEN COUNTY
Sept. 18 – at Union County
Sept. 25 – BALLARD MEMORIAL *
Oct. 2 – at Mayfield *
Oct. 16 – MURRAY *
Oct. 23 – at Madisonville-North Hopkins
Oct. 30 – TRIGG COUNTY
Nov. 6 – at Christian County
(* Class 2A 1st District game)