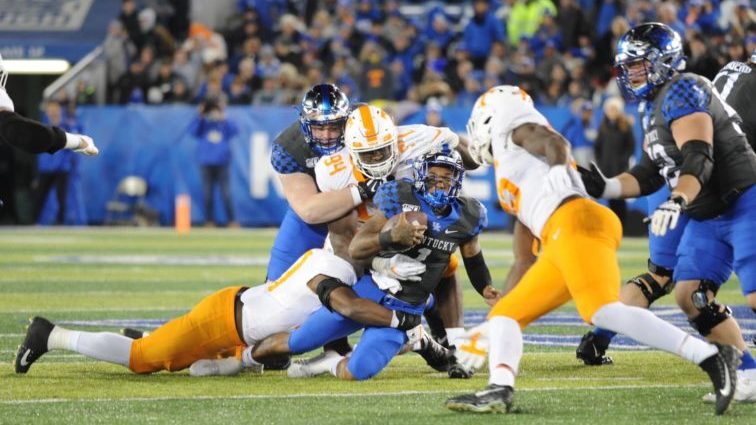 The SEC office did no scheduling favors for the lower level and middle of the pack teams in the SEC during this upcoming Covid-19 shortened season. Kentucky Football (if they play) was given the tough task of adding Alabama and Ole Miss to an already difficult schedule. Make no mistake, a 10-game SEC schedule should make for an interesting season. Gone are the days of watching Kentucky struggle on opening day against a Southern Mississippi team on the road, see them blow out UT-Martin or watch them scrape by Eastern Michigan at home.
Starting this season every game is competitive and for real. Even the ones that seem to be very winnable like Vanderbilt or Mississippi State. There are no "gimme" games for Kentucky in the SEC. Last season proved that. SEC losses to what ended up being very pedestrian teams in South Carolina and Mississippi State, both on the road, would lead one to believe that SEC road games during a normal season could still be a struggle for this Kentucky program, regardless of the caliber of their opponent.
But this isn't a normal season. No one currently knows how a limited number of fans in the stands will affect UK's road performances. No one knows how all the extra precautions that will be taken during a pandemic season will affect the psyche of each team. And no one knows how Covid-19 could affect each team as players choose to opt out the season or become infected and can't participate for several weeks during the season.
Football is a physical, contact sport and it requires players to be in tip-top physical condition, week after week. Throw on top of that going against some of the best athletes and teams in the country for 10 games in a row — that's a tall order for middle of the pack SEC teams like UK that don't have a lot of margin for error.
So this season is shaping up to potentially be a good measuring stick for the progress Mark Stoops has made with the Kentucky Football program. With four previously scheduled home games against South Carolina, Mississippi State, Vanderbilt and Georgia all things considered the Cats should be able to win all of those except the Georgia game. I would guess that even at home the Bulldogs will be too much to handle.
For home games that leaves the added game against Ole Miss and that should be an interesting match up.  Ole Miss, under first year head coach Lane Kiffin, should be greatly improved from last year's 4-8 squad. Kiffin likes to run a wide open offensive scheme that should help test Kentucky's  top 15 defense. This is a game that the Wildcats need to win if they want to be considered something more than an "also ran" in the SEC each year.
If UK can win 4 of its 5 home games, and I think they can, that would put them at 4-1 before considering their 5 road games. This is where the climb gets a lot tougher. Historically Kentucky has struggled against "name" SEC schools in general and on the road. "Name" schools mean programs that have historically played dominate football over the last few decades. Those teams in my opinion are Florida, Georgia and Tennessee in the SEC Eastern Division and Alabama, Auburn, LSU and Texas A&M in the SEC West.
Not surprisingly, UK has a very poor record against all these schools since Stoops became the head coach in 2013 (actually the poor winning record goes back much farther than that but 2013 as a starting point was most relevant since Stoops is currently the head coach). The Wildcats are 1-12 against those teams in Lexington and have a 1-12 record against those same schools when playing on the road. The lone wins are against Tennessee in Lexington during the 2017 season and against Florida in 2018 on the road.
Knowing the recent history of UK against "name" teams means that the games against Alabama and Florida should be considered a loss in the same category as the Georgia home game. All three of those schools are talented enough to beat Kentucky at home or on the road. Missouri should be considered a game the Cats will win. That leaves Auburn and Tennessee as the interesting games on the road in 2020. Both of those games could be winnable by UK if they play the type football of which they are capable.
Unfortunately, the record against "name" schools indicates there is something more going on than each team's talent. During Tennessee's down years over the last decade Kentucky has only beaten the Volunteers twice. Poor execution against some of these other teams has been UK's downfall over the last few years. Unguarded receivers, missed assignments, untimely fumbles and missed field goals have all come back to bite the Wildcats in some of those losses.
For Kentucky to move up out of the middle of the pack in the SEC they must win both of those games. The most likely win in my opinion would be against the Auburn Tigers. Historically Kentucky has played well against Auburn in the last couple of meetings — both being close losses in Commonwealth Stadium and at Jordan-Hare Stadium —  and have not played well against the Volunteers.
As stated earlier it seems that the game against Missouri should be a win — although a difficult one — because of the current situation with Tiger Football, a first year head coach in Eli Drinkwitz and the rebuilding process they are going through.
It would appear that Kentucky should do no worse than 5-5 with four wins at home — the lone loss being Georgia — and one win on the road, the aforementioned Auburn game. If the Cats can overcome past history and pull off the upset in Knoxville they could move into a top four or five position in the SEC.
But based on a Mark Stoops historical record of 2-24 against the toughest competition in the SEC, that's a very big "if".
Vaught's note: Keith Peel is a regular contributor for vaughtsviews.com and life-long UK fan.