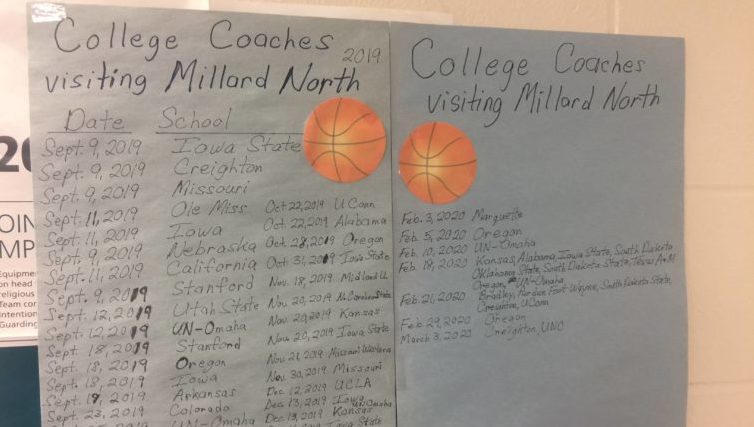 Kentucky point guard recruiting target Hunter Sallis of Omaha should have one edge over a lot of players when he starts his college career. The 6-5 Sallis is used to playing with quality players. Just consider:
— Max Murrell, a 6-9 center, set Millard North High School records for blocked shots in a game, season and career last year and signed with Stanford where he is a freshman this year.
— Saint Thomas, a 6-6 senior forward, averaged 15.8 points, 6.6 rebounds, 4.2 assists and 1.8 steals per game last year and has 12 Division I offers.
— Senior point guard Jadin Johnson has verbally committed to Old Dominion.
— Jasen Green, a 6-8 junior, already had offers from Wisconsin, Kansas State, Nebraska and Stanford
— Tyler Sandoval, a 6-8 senior center, has a Division II offer.
Sallis is the most high profile player in the group as he continues to rise in the recruiting rankings. He's a consensus top 15 player in the 2021 class.
"We are in an 18-team conference of big schools. Most have 2,000 to 2,500 enrollment. It's a really good conference and we have good talent in the city," Millard North coach Tim Cannon said. "We won our conference tourney last year for the first time in school history. Hunter had a great game but he was just happy to win. He's not about himself or his stats. He wants to win and that's why teammates like him."
Cannon says his he expects to start a lineup of players 6-3, 6-5, 6-7, 6-8 and 6-8.
"We have good practices with good guys to go against each other," Cannon said. "I don't always get it broke up evenly but we have three or players on each team that really go at each other and battle. Nebraska has not had as much basketball talent as other states but the talent level has gone way up the last five years."
That's obvious by the number of Division I basketball coaches who have been to Millard North the last year.
"From September 6 until March when the virus shut down things, we had 65 visits from Division I coaches," Cannon said. "Most were for Hunter but we had a lot of coaches come to see other players, too. We've never had anything like that and our kids really enjoyed it."