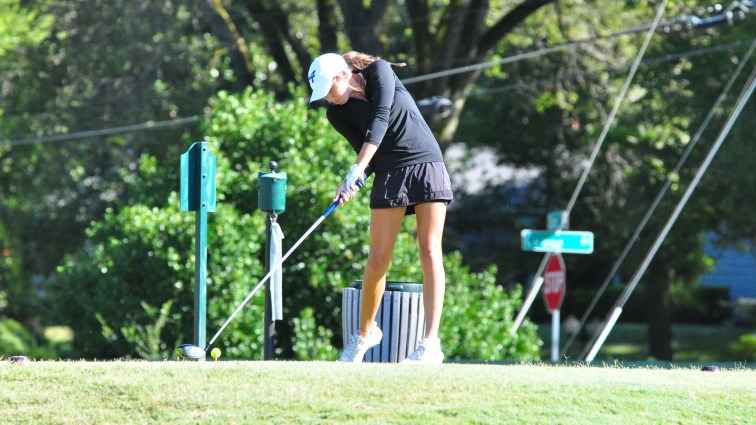 Apollo junior Macey Brown missed claiming the Region 2 golf title in 2019 by a single shot.  She made sure there was no such drama Tuesday as she won the region title by four strokes at the Hopkinsville Golf and Country Club.
Brown bogeyed two of the first three holes before she found her footing on the ninth hole.  She made the turn at 2-over and made par on the first three holes of the back nine.  A birdie on the 14th hole helped offset a double-bogey on No. 16.  She came in at 38 to shoot one of two rounds in the 70s.
Hopkinsville eighth-grader Cate Blane birdied two of the first five holes and shot a 38 on the front nine despite no pars.  She birdied No. 10 and carded her first par on No. 11.  Two straight double-bogeys on No. 12 and No. 13 derailed her title chances, but her round of 80 was good for third place.
University Heights Academy sophomore Rheagan Lindsey finished fourth with a round of 84 that included one birdie.
Hopkinsville freshman Anna Fort finished sixth with a score of 86, one shot behind Owensboro seventh-grader Alexsa Salamah . Fort shot a 43 on the front nine and started the back nine with four straight pars.  Despite a bobble on the scorecard at the end, Fort qualified for her first state tourney.
Daviess County's Holly Holton, Apollo's Mary Ann Lyons, and UHA's Conlee Lindsey all tied for seventh place with an 88.  The three went to a playoff hole to determine which two would qualify for the state tournament.  Holton made par on the first hole, and Lyons made bogey. Lindsey's drive went near a tree that forced a second shot under a tree that missed the green where she didn't recover.
Madisonville's Sydney Browning also shot an 88 and qualifies for the state meet.  Her round included a hole-in-one on the 17th hole.
Madisonville won its second straight team title led by Kaitlyn Zieba's round of 79 that saw her finish second.
REGION 2 INDIVIDUAL SCORES
75 – Macey Brown – Apollo
79 – Kaitlyn Zieba – Madisonville
80 – Cate Blane – Hopkinsville
84 – Rheagan Lindsey – University Heights
85 – Alexsa Salamah – Owensboro
86 – Anna Fort – Hopkinsville
86 – Kat Weir – Madisonville
88 – Mary Ann Lyons – Apollo
88 – Holly Holton – Daviess County
88 – Sydney Browning – Madisonville
88 – Conlee Lindsey – University Heights
89 – Hadleigh Hunter – Daviess County
89 – Tanner Robards – Muhlenberg County
89 – Abby Bahnick – Owensboro Catholic
91 – Addison Heady – Daviess County
91 – Karra Tucker – Madisonville
91 – Stella Knight – Madisonville
92 – Emilee Clark – Daviess County
92 – Maddie Huddleston – Dawson Springs
93 – Caroline Hope – Muhlenberg County
94 – Audrey Rains – Hopkinsville
94 – Elli Graves – Ohio County
98 – Riley Johnson – Christian County
98 – Maggie Hollis – Henderson County
99 – Eva Cassidy – Union County
100 – Kirsten Henderson – Daviess County
100 – Kursten Chinn – Ohio County
102 – Susan Schalosky – Breckinridge County
102 – Alexis Johnson – Christian County
102 – Anna Blane – Hopkinsville
102 – Mary Beth Conway – Ohio County
102 – Olivia Sprague – Union County
103 – Jocelynn Magen – Ohio County
103 – Rylea Dixon – Henderson County
103 – Grace Riddle – Hopkins County Central
106 – Dylan Elliott – Henderson County
107 – Erica Henderson – Henderson County
107 – Lillian Goodloe – Union County
108 – Whitlee Stovall – Muhlenberg County
108 – Ava Colburn – University Heights
109 – Carsyn Grundy – Muhlenberg County
111 – Chloe Mahurin – Webster County
112 – R.C. Porter – Owensboro Catholic
113 – Lainey Ann Osborne – Owensboro Catholic
114 – Conleigh Osborne – Owensboro Catholic
114 – Natalee Littlepage – Webster County
115 – Ella Gough – Union County
116 – Samantha Smith – Breckinridge County
116 – Carlie Hansen – Ohio County
116 – Phoenix Barnett – Owensboro
117 – Barbara Wright – Breckinridge County
118 – Calli Allen – Hopkins County Central
118 – Caroline Henderson – Owensboro
119 – Ella Lester – Hopkinsville
119 – Drew Sprague – Union County
121 – Addison Carter – Apollo
122 – Lacy Patterson – Christian County
124 – Gracie Galyen – Muhlenberg County
126 – Brylee Spurlin – Dawson Springs
127 – Natalee Oldham – Dawson Springs
127 – Peyton Rust – Apollo
127 – Abigail Thompson – Fort Campbell
127 – Matilda Thompson – Fort Campbell
129 – Shelby Cole – Henderson County
129 – McKenzie Lynch – Hopkins County Central
130 – Olivia McPherson – Owensboro Catholic
132 – Elena Jimenez – Fort Campbell
132 – Katie Guy – Hopkins County Central
134 – Allie Newman – Webster County
134 – Maggie Jones – Webster County
141 – Emilee Cook – Christian County
142 – Jasmine Tong – Owensboro
143 – Alissa Perkins – Apollo
144 – Maddie Back – Dawson Springs
145 – Maggie Blair – Breckinridge County
146 – Alexsa Hoffman – Fort Campbell
152 – Anna Priest – Breckinridge County
153 – Ellie Watson – Owensboro