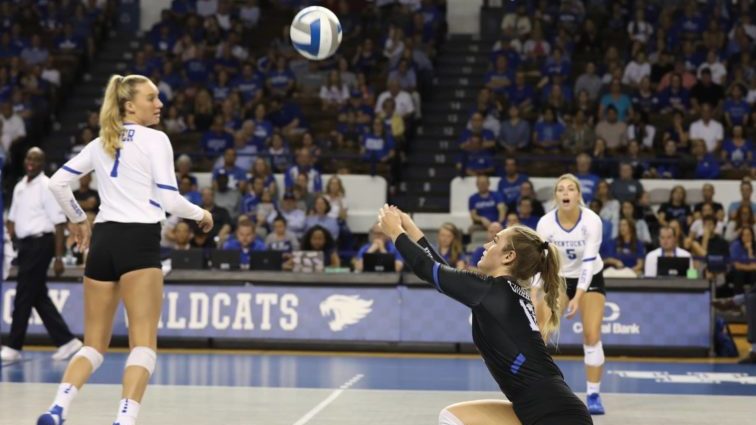 There had never been a time I asked Kentucky volleyball senior Gabby Curry a question she could not answer until Wednesday when I wanted to know how excited she was about finally getting to start the season Friday night against Tennessee.
"I can't tell you how excited I am," said Curry. "I don't have the words to explain it."
Obviously, she's glad the season has a starting date and potential NCAA Tournament planned in the spring after COVID-19 concerns wrecked the original 2020 season.
"I am just excited to compete and see other people other than our really good team across the net from me every day in practice," Curry said.
Coach Craig Skinner would not want to say his team is loaded, but it is.
He returns two of the SEC's best players in Curry, a libero, and Madison Lilley, a dominant setter. Junior Alli Stumler emerged as one of the league's best players last year.
Other players with plenty of experience on last year's SEC championship team also return along with the nation's top-ranked recruiting class.
Curry and Lilley were part of a "confident" freshman class that immediately proclaimed UK could reach the Final Four and win a national title, two things that Cats have yet to do despite being SEC champions the last three years and having chances to reach the Final Four.
"I think these freshmen might be even more confident than we were," Curry said. "As a senior I have taken a lot of time and energy to get in their ears and let them know they are good enough to compete right now. I wonder looking back if the seniors my freshman year felt the same about us or not. But I am so stoked to see how our freshmen react and perform this weekend.
"I am probably even more stoked because everyone else will get to see how good they are. Their work ethic and team mentality is really great. They are here to learn and kind of be in the shadows in the beginning but they are going to show who they are. You are going to have to wait until we play to see how athletic and skilled they are because it's hard to find in freshmen what they all have."
Memorial Coliseum will only have a few fans — family members — for matches Friday and Saturday night against Tennessee but Curry does not think that will be an issue for the team because she says the coaches have prepared the players for that scenario. The team had a game-day run through last week to let the freshmen get an idea what it would be like.
"Myself, I don't hear one word anyone in the stands says or hear the hype during a match," Curry said. "In the game, I am very focused. I think we do a good job being vocal on the court and creating our own energy. I don't really feel like it (no fans) will be a big difference."
Curry admits it is weird playing eight matches — two each against Tennessee, Missouri, Auburn and Mississippi State — and then having a long break until competition hopefully resumes in the spring. But she is not complaining.
"We are getting top play right now and at least have the mentality we are going into a season starting right now. It's way different then the Big Ten (teams) having to train and not see anyone else (because the fall season was cancelled)," Curry said.
"We have a unique opportunity to play other teams while our team is fresh, young and unseasoned. I am super excited going into Friday and being able to open eyes and hearts about what our new freshmen are all about. These matches are a great opportunity for us to get the kinks out before the NCAA Tournament in the spring."