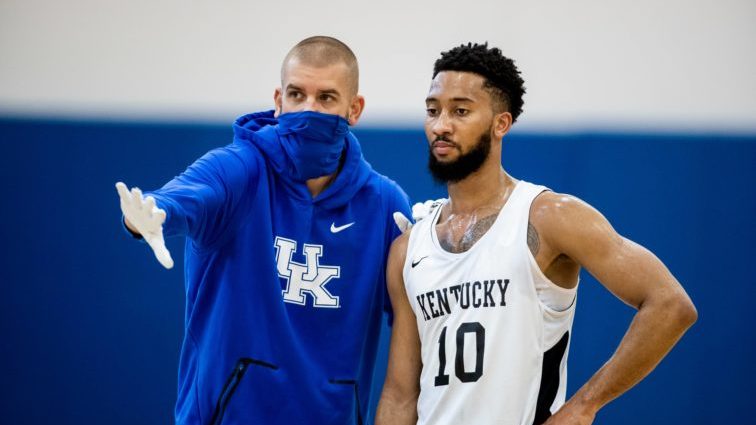 Coaches John Calipari of Kentucky and Chris Mack of Louisville seem to have a knack for infuriating each other and certainly have traded social media shots in the last few weeks over the annual UK-Louisville game and when it would or would not be played. However, Mack has one definite friend on the Kentucky coaching staff. Assistant coach Joel Justus' mother, Mary Ann Justus, was an administrative assistant for the Wake Forest basketball program when Mack was an assistant coach there from 2001-04.
"She was (head coach) Skip Prosser's secretary from day one until he passed away," Joel Justus said.
Prosser died in 2007 after suffering a heart attack in his office. Current Louisville assistant coach Dino Gaudio was on Prosser's staff in 2007.
"Those guys were with my mom and our family during a very tough time," Justus said. "So I have tremendous respect for Chris and his family. So, I will call Chris a friend but this is business and everybody has to do what's best for their program."
That was Justus referring to the "sarcastic" remark Mack made in a video about he would "do what was best" for John Calipari's program when it came to scheduling the UK-Louisville game. Mack has been upset Louisville will host the game with few or maybe no fans while next year's game in Rupp Arena could have a capacity crowd possibly.
Justus said he didn't even see the video that blew up in Kentucky until a few days after it was posted on Twitter and admitted a "head coach has to do what you have to do" when it comes to his program.
Of course, Justus said Wednesday him and Mack do agree on one thing.
"I would say every day I've got to do what's best for Cal, too. So I kind of get where Chris is coming from."
Mack did confirm Wednesday that the UK-Louisville game likely would be played Dec. 26, the date UK preferred from the start over the Dec. 6 date Louisville wanted.