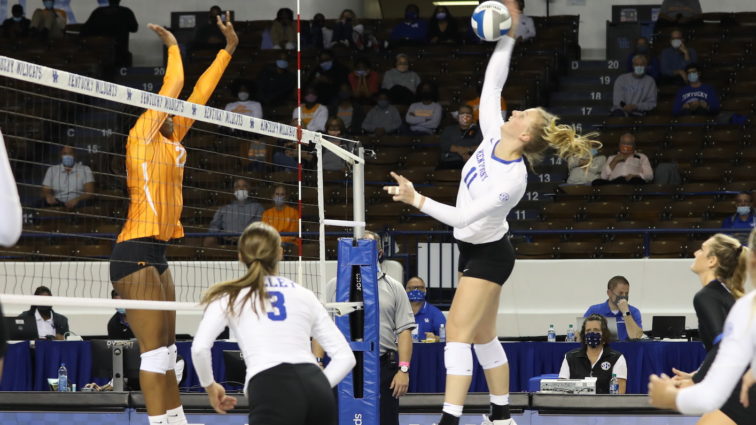 The No. 3 Kentucky Volleyball team came out of the gates strong on Friday night, sweeping the Tennessee Lady Vols 3-0 (25-15, 25-16, 25-15) to begin the 2020-21 season of Southeastern Conference volleyball.
Senior Avery Skinner led the way for the Wildcats with 13 kills on 24 swings for a .542 attacking percentage and also recording four digs. Skinner's 24 swings on the night came without a single error. Freshman Reagan Rutherford stepped into the spotlight with nine kills, finishing with the second most of the night for UK.
Stalwarts Alli Stumler and Azhani Tealer combined for 15 kills on the night, and freshman Elise Goetzinger started her Wildcat career with seven kills on nine swings. The offense was clicking all night, as senior setter Madison Lilley recorded 42 assists and 11 digs, as she racked up her first double-double of the season.
In the back, the always reliable Gabby Curry had 12 digs, leading the way for UK.
Kentucky and Tennessee will close out its opening series of the season on Saturday night at 7 p.m. ET inside Memorial Coliseum. The match will be shown live on the SEC Network+, ESPN app and ESPN.com/watch.
Check out the photos from Vicky Graff