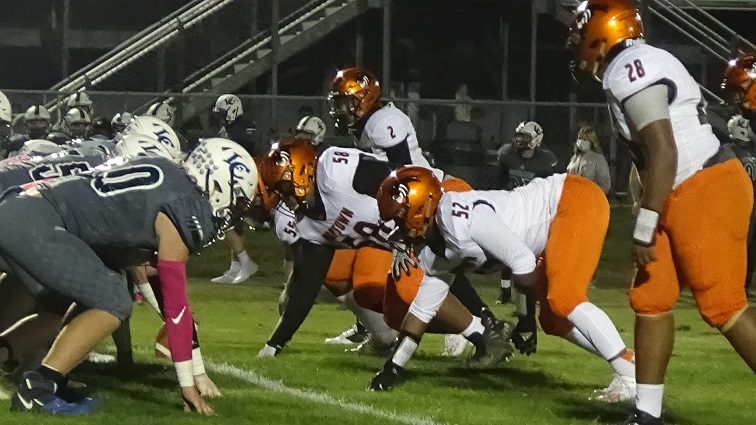 After sitting out the last three weeks due to COVID exposure in a September 25 loss to Calloway County, the Hopkinsville Tigers struggled to get anything going in a 31-7 loss to hosts Logan County on Friday night.  The result leaves the Tigers at 2-2 on the year, 0-2 in district play, ahead of a visit from Hopkins County Central next week.
The Cougars wasted no time jumping out to an early lead, scoring on their first possession of the game on a 1-yard run by Anthony Woodard.  Woodard was at it again with 5:32 left in the second quarter when he hauled in a 47-yard touchdown pass from Wyatt Blake, doubling the Logan County advantage.  The Cougars tacked on a 21-yard field goal by Lucas Arevalo in the final seconds of the first half, leading 17-0 at the break.
It didn't get much better in the second half for the Tigers, although they did catch a break when Logan's Maurice Gordon fumbled with no one between him and the endzone, with the Tigers falling on the ball.
On 3rd and 13 from their own 17, Tiger quarterback Treyvon Jefferson hit Reece Jesse out to the 38, but after a fumbled snap and a false start, the Tigers were forced to punt.  The teams traded turnovers as the third quarter turned to the fourth, with Hopkinsville recovering a fumble and then giving it back on an interception by the Cougars' Zach Yates.
Blake punched it in on his own with a 30-yard run to stretch the Logan lead to 24-0 with 10:36 left in the fourth, before again finding the endzone, this time from 18 yards out, for the Cougars' final score with 5:58 left to play.
After a nice kickoff return by Ryan Myers, followed by a 24-yard screen pass to Myers down to the Logan 3-yard line, the Tigers got some consolation on a 3-yard touchdown run by Jayden Dillard.  Zach Moss added the extra point for the final score.
Blake was the story for the Cougars, rushing 29 times for 249 yards and two touchdowns.  Logan County ran for 410 yards on 55 attempts, compared to 26 yards on 22 rushes for the Tigers.  Logan County outgained Hoptown 457 to 98, with the Tigers turning the ball over on 3 interceptions and the Cougars fumbling twice.