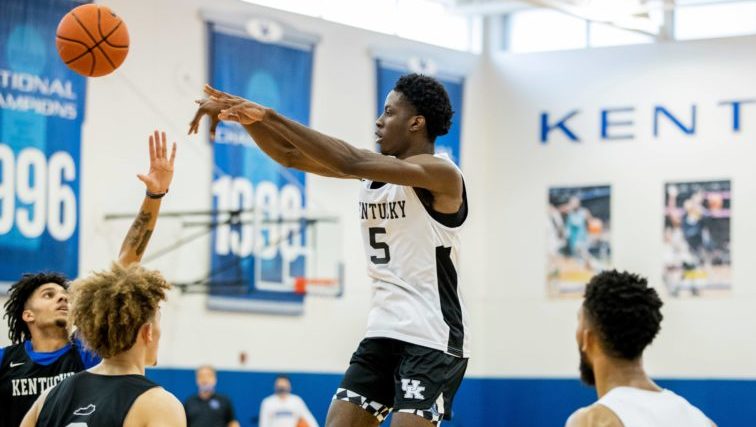 Terrence Clarke (UK Athletics Photo)
Kentucky assistant coach Joel Justus admits he doesn't know a lot about New England basketball. However, he does know plenty about freshman wing Terrence Clarke who played for Brewster Academy in New Hampshire.
Clarke was a McDonald's All-American and New England Preparatory School Athletic Council AAA Player of the Year. Clarke, a five-star recruit and top 10 player nationally, helped Brewster win the 2019 national prep championship and was in the 2020 final before COVID-19 stopped play.
"Terrence is an extreme talent who works hard, who's competitive," Justus said.
Justus knows Clarke played with and against "tremendous players" in high school to get him prepared for UK.
"Watching Terrence play over the last couple of years, you see an uber-competitive young man that wants to win and is excited about the challenge," Justus said.
"I think that when you go to a problem like Brewster, that is extremely well-coached by Jason Smith, has really good players, that Terrence is comfortable playing with other talented players and wants to be in a setting where it's going to be challenging.
"That's a credit to really Jason and his staff up there and the tradition and culture that they have. That says a lot about Terrence."
Kentucky coach John Calipari — who has compared Clarke's talent to that of Anthony Davis and John Wall — likes Clarke's length, quickness and athleticism.
"What he's learning to do is to not mess with the ball. We chart lane touches. Throughout the practice and accumulated for the year to this point, how many lane touches? By far, he has the most lane touches and that includes big guys who are catching it off passes. That's a lane touch where they're posted up," Calipari said. "He's probably got double the lane touches of anybody on the team.
"Now, it's taken him time because he's used to messing with the ball. We're just saying, 'Get the ball by the man and get in the lane.' So, he's playing in a way that he hasn't played. His decisions are still coming around. Like, OK, now you're not messing with it, you're running downhill, you've got to slow your mind down. Do I have a runner? Do I have a layup? Do I have a lob? Do I have to stride stop? And that's what we work on.
What I'm trying to get them to understand is, you have a freedom inside of the principles that we're teaching. You have a freedom inside of the skillset you have. In other words, you're not a 3-point shooter. You're not shooting 3s. If you're a driver, figure out areas to drive. If you want to shoot 3s, get in the gym and start making 3s. So, we're doing all of that, and Terrence I'm on right now based on the fact that he has a chance to really be special."