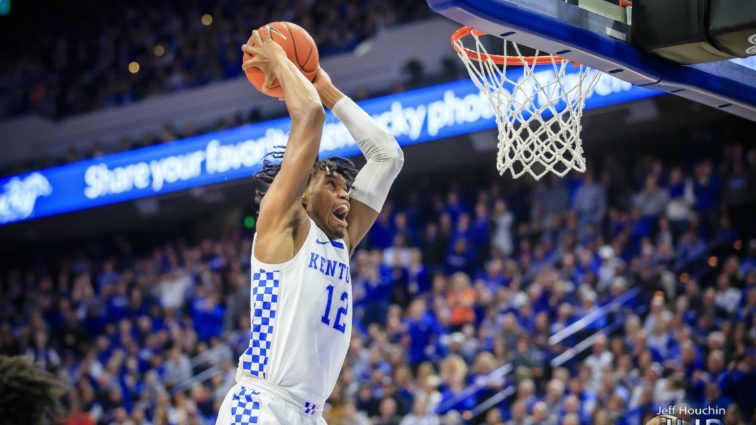 There is a lot for Keion Brooks Jr. to worry about with the pandemic, uncertainty about the college basketball season and trying to get back fully healthy for his sophomore season at Kentucky. One worry he says he does not have is getting passed over for playing time by younger teammates while he's out injured.
"I have no worries about being passed up by anybody. Not to say I don't wish my teammates well and everything, but I'm confident in my ability, confident in the work that I've put in, that when I do come back I'll be ready to go. So that's the least of my worries," Brooks said Wednesday during a Zoom conference with media members.
Brooks is the only player coach John Calipari has back who has scored a point or grabbed a rebound in a Kentucky game. The sophomore forward had one of his best games in what turned out to be UK's season-ending win over Florida and was being counted on to help lead this team with his talent and experience.
He says he's taking his preseason leg injury day to day.
"I feel great. It's just a matter of when the doctors are 100 percent comfortable with me getting back out there competing at full speed. I'm still doing my individual workouts. I'm still a part of practice. I just need to take a little step back when it's time to go five-on-five," he said.
Has it been frustrating not to be able to play considering how much offseason work he put in?
"Nah, not at all. I'm a believer that everything kind of happens for a reason. I believe that God has a plan for me and I'm just not ready right now, but I know that I will be ready in the near future," the UK sophomore said. "So that doesn't really frustrate me.
"I've looked at it as a blessing. I've taken a step back and been able to really analyze what's going on out there on the floor."
He joked he has learned that he doesn't eat enough to keep his weight up when he's not playing.
"It's weird I don't gain weight as much as when I am active but it's probably cause I am not as hungry," he said.
Brooks has added what he called "good weight, muscle mass" since the end of last season.
"Being in a college weight room for two year I would hope I look stronger than my freshman year. If not, I was not doing something right," he said.
Brooks has taken some extra time to lift weight during his injury to make sure he's fully ready to go when cleared by doctors for full workouts.
His injury has helped remind him not to take anything for granted about basketball or life.
"I was feeling really, really good before I got hurt. It set me back a little bit but I am back to feeling well," he said. "I just miss being out there with my teammates every day and competing and running around and going through it with them. I just wish I was out there. It's different talking on the sideline (with teammates) than when you are out there with them going through it."