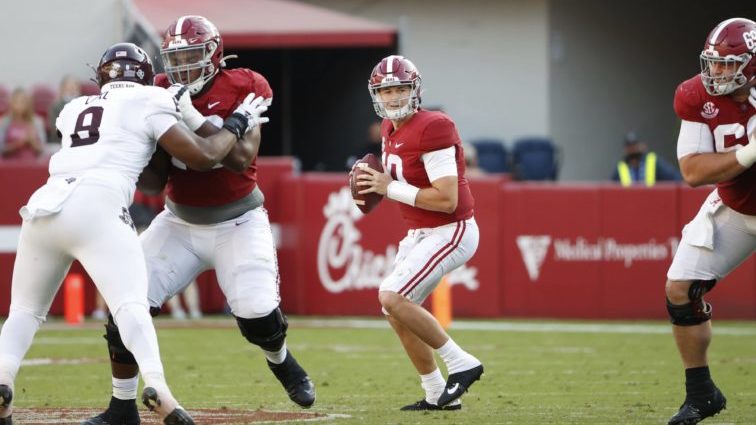 Did the opportunity for former Kentucky quarterback recruit Mac Jones, now a Heisman Trophy candidate at Alabama, to come in early and lead a growing Kentucky football program scare him off from his commitment to UK?
It might appear that way based on some of his comments in a recent Al.com article.
Jones, a No. 468 recruit in the country, was recruited and offered a scholarship by Kentucky back in 2014 after his sophomore year in high school. He had two other offers at the time — one from East Carolina and the other from his mother's alma mater, Mercer in the FCS.
In a discussion recently with Al.com about his recruitment back in 2014 Jones said, "I respect that (Kentucky) program, but you know I might have had to go in there and play a little bit more and I don't know if I was ready for that."
So it appears that an opportunity to play early at UK may have caused Mac Jones to re-think his commitment to Kentucky and instead commit to Alabama in the final weeks of the recruiting season.
Here is his thinking. If he had signed with UK he felt like he would have been expected to come in and immediately fill the shoes of UK senior quarterback Stephen Johnson. In his words he didn't think he was ready. According to his conversation with Al.com he wondered if he could really help the team. "When you really get there and the reality is, you're not physically ready," Jones said in the interview.
So it appears that UK lost a potential Heisman Trophy candidate quarterback because they offered what looked like an opportunity to play immediately.
That is a tough one to swallow for any coach, but is that really the reason? Alabama coach Nick Saban seemed to back up Mac Jones' story.
"When he came as a freshman, he was probably 180-185 pounds, was not very strong. He needed to mature physically," Saban said.
Current Alabama tight end Miller Forristall said the same thing.
"Mac came in as a little white kid, three-star recruit from Jacksonville," Forristall said. "So automatically, you get put off. He came here not a big name and everyone just assumed he would get rolled over by the list of big names."
And that's when Mac Jones decided to take the route of waiting at Alabama — sitting behind future NFL quarterbacks Tua Tagovailoa and Jalen Hurts — instead of potentially playing at Kentucky.
Jones said that Saban sold him on the idea of taking time to develop physically while he worked to master the mental side of the game. Saban encouraged Jones to not look at his time on the scout team as a competition to try to move up the depth chart but instead treat it as an opportunity to learn from two of the best quarterbacks in the country — Tagovailoa and Hurts. As time moved on Jones improved his quarterback skills and grew into his 6-2 frame. Now, as a junior, he is listed at 214 pounds. He's not a super skinny little white kid anymore.
Based on what Mac Jones says now, he was concerned that Kentucky's need for a quarterback in 2017 would have thrown him into the position of having to play without being physically ready. That doesn't quite seem hold water with me. I've yet to see Mark Stoops or Eddie Gran play any quarterback at UK that wasn't mentally or physically prepared to play. That's one of the reasons so many quarterbacks have transferred out of the program.
It appeared that, unlike Mac Jones, they wanted to play early and try to help the team but the coaching staff didn't feel that they were ready. Instead of continuing to wait, as Jones did at Alabama, they decided to transfer and roll the dice at a different school. As UK basketball coach John Calipari so aptly said recently, "Every player is on a different path." And so they are.
But even if Mac Jones goes on to lead Alabama to a National Championship and wins the Heisman Trophy remember who identified him as a talented quarterback way before Alabama — or anyone else — knew that he could play. None other than Mark Stoops and the Kentucky coaching staff. They take great pride in identifying talent early and generally the talent they identify early takes pride in sticking with their commitment. And even though that didn't happen in this case it appears that both sides — Stoops and Jones — are okay with how it turned out.
Stoops said recently when asked the hypothetical question of whether Jones would have been ready to play at UK in 2017, "I have no idea how that goes as far as when he'd be ready to play here and all that, but he was a very good player out of high school who is playing at an extremely high level right now. So I am happy for him," Stoops said.
So there you have it. Mac Jones, former Kentucky quarterback commit turned down an opportunity to potentially play early at UK, to instead sit behind two future NFL quarterbacks in the hope that he might get a shot someday to play for Alabama.
It's the stuff of which dreams are made. Small time recruit de-commits from a middle of the road SEC football school and gets picked up by Alabama as an insurance policy only to work his way into the starting line up and have an opportunity to win a Heisman Trophy and National Championship in the same season. Who could ask for more?
–— Keith Peel, Contributing Writer