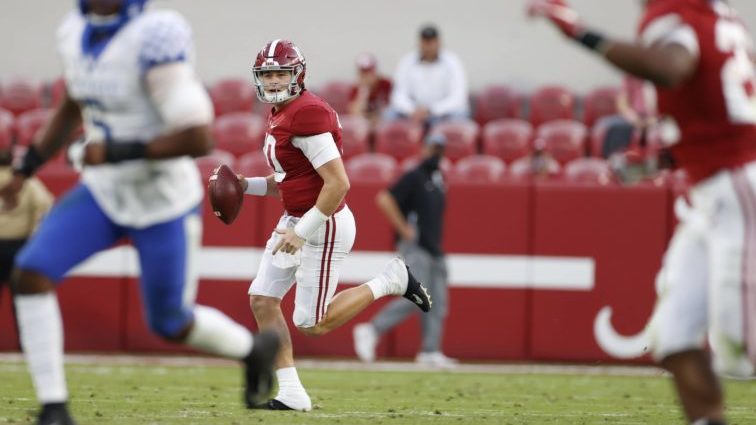 Alabama quarterback Mac Jones picked apart the UK defense in Saturday's 63-3 win. (SEC Photo)
Earlier this week Kentucky coach Mark Stoops was asked about what playing a perfect game meant. The UK coach said he didn't remember ever talking about a perfect game and that it was impossible to do that. Well, Kentucky was far from perfect in Saturday's 63-3 loss at No. 1 Alabama Saturday in what was the worst loss in the Stoops' era. Previously it was a 42-point beating (59-17) by Georgia in 2013 when Stoops was trying to rebuild the UK program.
Kentucky did have 10 players, including leader rusher Chris Rodriguez and leading tackler Jamin Davis, and assistant coach Darin Hinshaw out due to COVID-19 and injuries but the Cats helped Alabama way too much in this game where it was a 31-point underdog.
"You can't do that against good teams," Kentucky coach Mark Stoops said about the numerous mistakes. "We had an opportunity to make it at least 7-6 and instead snapped it (bad) and gave up 40 yards. That is a big momentum killer for your team. You can't make those mistakes."
How many mistakes did Kentucky make early? Here are some of them:
—The Cats were inside the 10-yard line trailing 7-0 when Landon Young was called for holding on a play that went to the 1-yard line. Kentucky had to settle for a field goal.
— Kentucky was back inside the 10-yard line when a third-down quarterback draw by Terry Wilson — Stoops said there were both run and pass plays called — gained nothing and on the field goal try a high snap resulted in a 36-yard loss and no points for the Cats.
— Still down only 7-3, Kentucky had two defenders knock an interception away from each other but it didn't matter because defensive tackle Phil Hoskins was called for hands to the face of Bama quarterback Mac Jones. Two plays later Jones fired a TD bullet for a 14-3 lead with 10:12 to go in the first half.
— Down 14-3 the Cats stalled at the 25-yard line but a wobbly snap on the 42-yard field goal try may have contributed to Matt Ruffolo missing wide right.
Alabama had a 14-3 lead even though UK had outgunned the Tide 140-123 in total yards and the Cats already had three pass plays of 17 or more yards — which for this UK passing attack is as explosive as it can get.
Then came another mistake when UK got caught out of position on defense — it even got called for having 12 men on the field — when Alabama's Najee Harris went 42 yards for a touchdown to push the lead to 21-3.
That's when you knew enough was enough and Kentucky's chance for a miraculous upset had zero chance of happening as Alabama won its 96th straight game against an unranked opponent.
Alabama pushed the lead to 28-3 by halftime and was averaging almost 11 yards per game. The Kentucky defense did not have a quarterback hurry or quarterback sack and made just one tackle for loss as Bama gained 264 yards. Jones was 13 of 16 passing for 202 yards and two scores. Alabama finished with 509 total yards and Jones, a one-time UK commit, threw for 230 yards before sitting out the fourth quarter.
Kentucky used Wilson and backups Joey Gatewood and Beau Allen in the second half. It didn't matter. The three were a combined 0-for-9 passing with a Pick Six by Wilson.
"It was not the greatest of situations to put either of those guys into it. We know that," Stoops said. "They had all the momentum and could play very aggressive. It was a tough spot for both of those quarterbacks."
Kentucky had 27 yards total and just one first down in the second half and for the second time in the last four games did not score a touchdown. In losses to Georgia, Missouri and Alabama, Kentucky has now scored 16 points total and given up 97.
"We have to be better at throwing the football. We know that. I understand that and we are working hard to improve that." Stoops said. "We got into the red zone but we couldn't convert that into points. We have got to get into the end zone. Missing field goals did not help, either."