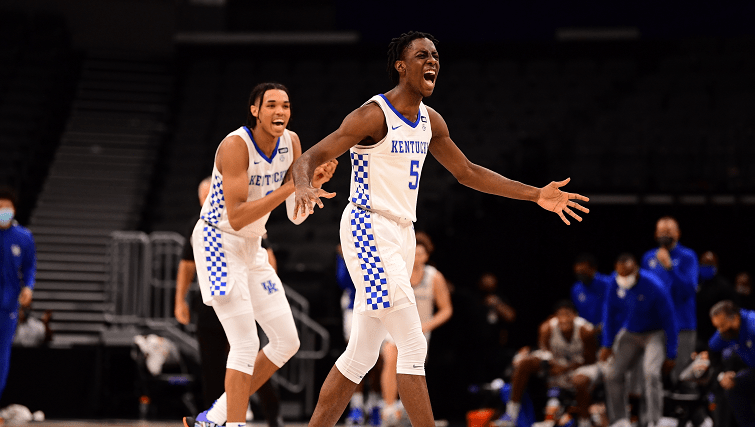 BJ Boston, left, and Terrence Clarke have combined to take 19 3-pointers this year but have yet to make one. (ESPN Photo)
It seems like it was months ago that Kentucky made six of its first 13 3-pointers in the season-opening win over Morehead. While no one thought Kentucky would turn into one of the nation's best 3-point shooting teams at least the Cats looked like they would be adequate. Instead, the last two games the Cats have been terrible from long range.
Since that 6-for-13 start, Kentucky has missed 31 of its next 34 3-point shots. Kentucky did not make a 3-pointer in the loss to Richmond. It was 3-for-21 in Tuesday's loss to Kansas.
It looks even worse when Kentucky's expected two best offensive players — freshmen BJ Boston and Terrence Clarke are 0-for-19. between them. In three games they have not made a single 3-pointer.
Davion Mintz has made four 3-pointers. Dontaie Allen and Devin Askew each have two. The other 3 was by Cam'Ron Fletcher, a player not known as a shooter.
Kentucky coach John Calipari said now he hopes the 3-point shooting won't be off a third straight game Sunday when the Cats play at Georgia Tech.
'I think we've got a good 3-point shooting team, but we're just not making them right now," Calipari said after the 65-62 loss that ended with Mitz missing a 3-pointer.
Calipari has to be optimistic. He can't give up on the 3-point shooting three games into the season.
But if he has good shooters, why are they missing and missing and missing?
"It could be the pressure. These kids have never been in this situation and it means more," Calipari said. 'You're playing with headphones on and gloves on and shooting the ball.
'Now all of the sudden this thing is different. A guy is hanging on you. You're playing with a guy that's four years older than you and the guy is up in you. Okay. It's a different deal and it takes time to get used to."
Freshman forward Isaiah Jackson is not one of the players who is supposed to be a long-range threat. But he was the only UK player made available to the media after Tuesday's loss and he said it seemed like a combination of taking some bad shots and just missing open shots.
"There was a couple of plays we had for 3's and we didn't execute them right. Then, we were just missing. I don't know what it is. We just weren't hitting shots. It happens," Jackson said.
It does but it cannot continue to keep happening unless Kentucky wants to see this losing continue as well.