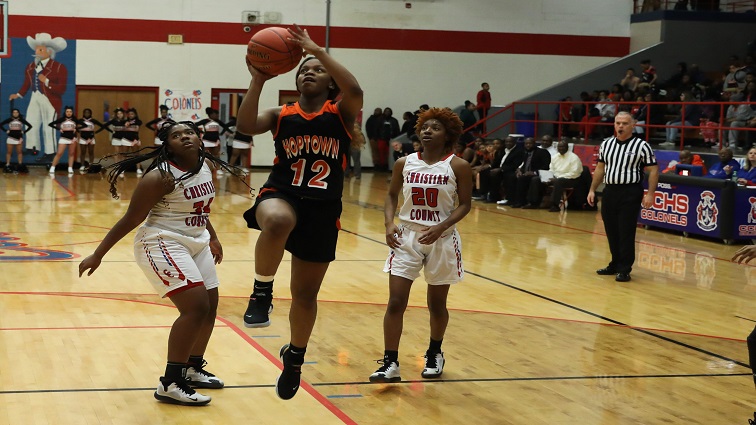 The Hopkinsville girls' basketball team recaptured the 8th District title in 2019-20 after two years of runner-up finishes, and with all five starters back they appear well positioned to defend the trophy and compete for their first regional crown since the 2011-12 season.
Two seniors are gone off last season's 15-16 team that lost to eventual champions Henderson County in the opening round of the regional tournament.  The Lady Tigers' last win in the tourney came in 2017-18 with a 75-40 first-round victory over Crittenden County.
JaKiyah Hinton's production will be missed after she pulled down 7.7 rebounds per game during her senior year, good enough for second on the team.  In addition to Hinton, the Lady Tigers will be forced to play without senior Lakayla Samuel until at least February as she recovers from a summer knee injury.  Samuel did it all for the Lady Tigers last season on the way to All-District honors, finishing second on the team in points, 12.1, and rebounds, 8.9, while leading the squad with 30 made 3-pointers and a 31.6 shooting percentage from deep.
Junior Donisha Flowers leads the way after an All-District and All-Region season that yielded team-high totals of just under 14 points and 10 rebounds per game.  Flowers was the only player in the region to average a double-double during the regular season, helping the Lady Tigers lead the region in rebounding.  Seniors Jakayla Epps and Dashiya Radford will help out in the paint as well, with Radford fourth on the team last year with 4.5 rebounds per outing.  Epps was an All-District selection after scoring 7.5 points per game to go with 3.4 rebounds while finishing second on the squad with 15 made 3-pointers.
Guard Shaterrea Bellamy rounds out the projected starting lineup after an All-District and All-Region Tournament team season as a sophomore.  She was third on the team with 8.5 points per game and provides a steady ballhandler in the Lady Tiger backcourt.
Sophomore guard Faith Dansbury was one of only three players to appear in every game last season, while Lashanti Wilson can help off the bench as well after posting 3.2 points per contest as a 7th-grader.  Freshman transfer Shiyah Forte provides another option in the backcourt after appearing in seven games for UHA last season.  Junior forward LaTaijha Cherry is expected to expand her role after playing in seven games for the Lady Tigers in 2019-20.
Hopkinsville opens the season on January 5 with a visit from region runners-up Madisonville-North Hopkins.  The Lady Maroons won last season's meeting 51-21 but had five players graduate and will be playing without All-District and All-Region selection Camryn LaGrange as she recovers from a knee injury suffered during the soccer season.
District play begins on January 8 with UHA paying a visit to Tiger Gym, before a showdown with Christian County four days later.