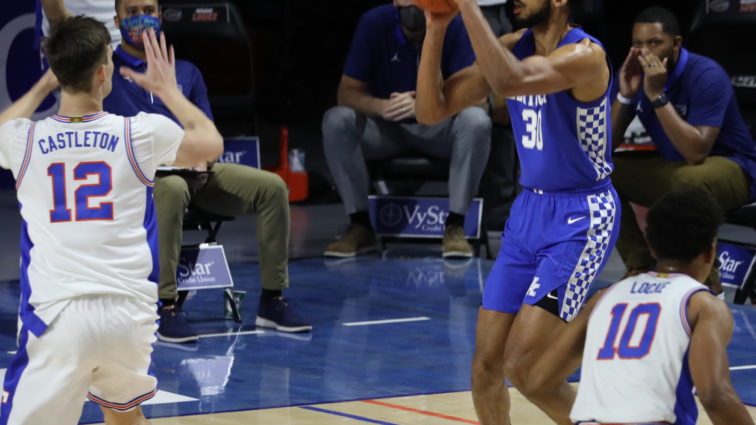 Olivier Sarr and his Kentucky teammates knew not everyone would approve of what they did when they kneeled during the national anthem before Saturday's win at Florida.
"We understood that our gesture would have consequences," Sarr said Monday. "We just want people to understand. We know some are mad and pissed. It was just a peaceful way to protest. Just raise awareness. That is it."
What exactly were they protesting against?
"I think our actions speak for itself," Sarr, a native of France, said. "What happened in the past few days, past few weeks, even during quarantine. We were just showing support and raising awareness of things that happened lately."
Sarr said the players were coming for a "place of understanding and peace" they hope others understand. Many have not based on the social media criticism the players and coaches, who also knelt, have received. Some UK fans have said they will not watch this team play again. But there has also been plenty of support from other UK fans.
Sarr said the team didn't talk about what the reaction might be like.
"Obviously we knew some people would react a certain way. You do something and some are pleased and some aren't," the UK senior said.
He said the team made the decision and "everybody" was okay with it and wanted to participate.
"Unfortunately some are not happy with it," Sarr said. "We just want the best for everyone and want peace."
He thought it sent a "big message" that every player participated along with the UK coaches.
"We are a unit and that's what we want our country to be," Sarr said. "I think what was really powerful was Coach (John Calipari) doing it with us. He took to heart what we said and did it with us for the cause. That shows we are all together. Some might disagree but we (minorities) just want to be treated equal . That's all we want out of it."
I asked Sarr if this was something UK might do again when the Cats host Alabama Tuesday night or in other future games.
"We will see what we do for other games," he said. "Whether we do it once or twice, our mind and focus is on that and these issues and gestures at all times."
Sarr was told about some fans questioning Calipari's leadership and not being man enough to stop the players from protesting.
"I don't care about outside opinions of other people. We are all in this as a team together. We all have an opinion. I am just proud Coach stood with us," Sarr said.