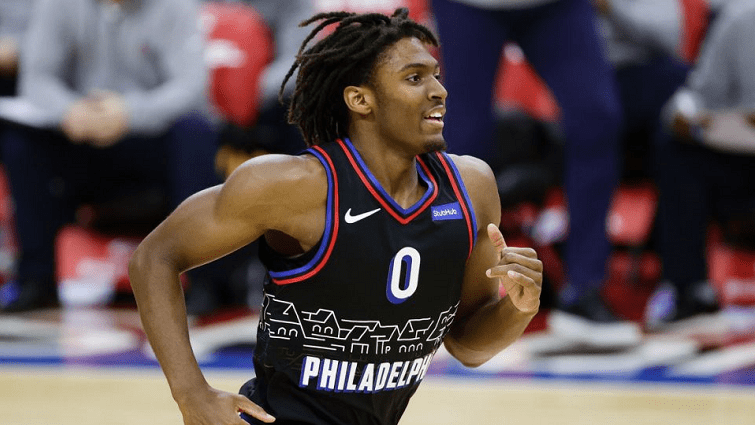 Former Kentucky standout Tryese Maxey put his name with some impressive company thanks to his 39-point performance Saturday night in his first start for the Philadelphia 76ers. Maxey was 18 of 33 from the field and had seven rebounds, six assists and two steals to go along with his 39 points in 44 minutes of play in just his 10th NBA game.
It was the highest-scoring game by a rookie this season and most points scored by a Philadelphia rookie since Allen Iverson got 40 in 1997. It was also the most points by a 76ers rookie in his first career start since 1970. Maxey became the youngest 76er at 20 years, 66 days to have a 35-point game and just the 14th NBA player to score 39 points at age 20 or younger while shooting 55 percent from the field.
That's not all. Maxey became just the eighth NBA player with 35 points, five assists and five rebounds in one of his first 10 career games. The others are Frank Selvy, Oscar Robertson, Geoff Petrie, Alvan Adams, Tom Gugliotta, Iverson and Brandon Jennings. Only Maxey and Jennings have done it in the last 20 years.
The former UK star became just the fifth rookie to have 39 points, six or more assists and two or fewer turnovers. The other four are prominent names — LeBron James, Michael Jordan, Donovan Mitchell and Steph Curry.
Philadelphia coach Doc Rivers even ran at play at the end of the game to try and get Maxey to 40 points but Maxey missed the shot.
"I wasn't gonna shoot until he told me to so I was like, hey. That's kind of why I missed it probably but I mean I really appreciate him for that," Maxey said.
"I called that last play for him and he became a point guard and he made a pass. I told him, 'Bro you got 39, you gotta throw it up to the rim on that one'. He's joking he said 'You right'. He's just a great kid too, I gotta tell you, he's really a lot of fun," Rivers said.
Rivers did not think Maxey's performance was a fluke
"I'm telling you, he's going to be a terrific player," Rivers said after the game. "He's going to keep getting better. He's gonna keep getting smarter by just playing with all these vets."