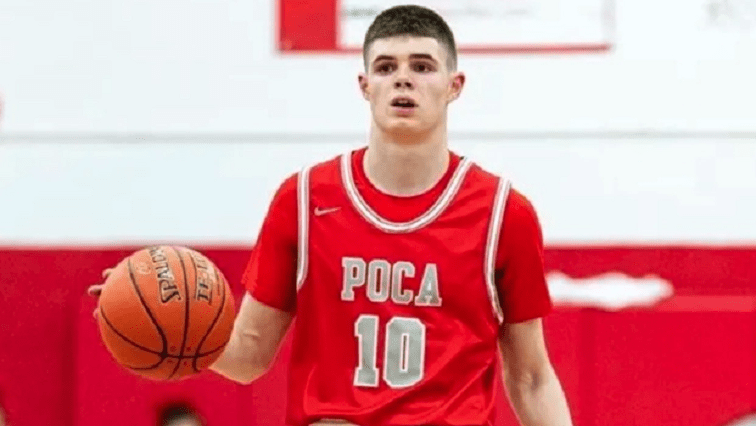 Isaac McKneely's junior season won't start until March 1 at the earliest but when it does, his coach says watch that a special player he is.
"He is really a good player. He is about 6-4, 185 now and he is a heck of a shooter. He can shoot the ball great," said Allen Osborne, McKneely's coach at Poca High School in West Virginia. "He can score, drive to the basket, shoot over top of defenders. He's a good passer, a combo guard. He's just the type of kid you want in your program. He's also very humble and hungry to get better.
"He wants to play at the next level. He's long, very athletic. I just think he has a chance to be a very, very special player."
McKneely does not have a Kentucky scholarship offer but he has UK on his final list of eight schools along with Illinois, Indiana, Louisville, North Carolina, Purdue, Virginia and West Virginia. North Carolina is the only other school in his top eight that has not offered a scholarship.
He's not a top 25 player nationally in the 2022 class but is considered a top 60 player by most recruiting analysts. Osborne has no doubt he can succeed at a high level. He was the coach at Poca before he retired and had been coaching at the University of Charleston. His successor at Poca left and when he was asked to come back — the gymnasium there is named for him — and said he would for a year. This is now year three for him back as Poca's head coach.
"He was our point guard my first season back when he was a freshman," Osborne said. "They had won five games the years before. We won 18 and he was a big part of that. We got to state. If our season had not got cut short last year, he would already be over 1,000 points. He's that good."
McKneely was a 6-2, 150-pound sophomore. Now he weighs around 180 pounds and his coach says getting bigger and stronger has not impacted his "good feet" on the court.
"We have really focused on his defense," Osborne said. "I think he can be a very good defender. We want him to be as good defensively as he is offensively. He has really concentrated on that."
McKneely is also learning to play more without the ball. His coach says in middle school the ball was always in his hands but he's working to be a complete player who can off screens to score, too.
"We are actually going to try and get him to shoot the ball more. He's a good teammate, but for us this year we need him to shoot more," Osborne said. "He can handle the ball. He's a really good passer and shooter. But he's also a very unselfish player and a great teammate.
"He's very humble. He never talks about getting recruited. We have about 500 kids in school and a nice little community. HIs recruitment is a big deal but he's not going to brag or act conceited. He never says anything to me about recruiting. I have to ask him who he has talked to. He just takes it all in stride."
Calipari called Osborne several months ago to tell the coach he wanted to see McKneely play this year before they offered a scholarship since they could not see him play last summer.
"Calipari said they would be keeping tabs on him. A couple of Kentucky assistants have talked with the family. They have let him know they are very interested. Calipari was very upfront and honest about all this," Osborne said.
How much interest does McKneely have in Kentucky?
"He does not say a lot but he is interested. The thing about Kentucky is that of all the schools on his list, Kentucky is closer to home than anybody," Osborne said. "It's only about 2 1/2 hours from here to Lexington and that's a big factor because his mom and dad want to watch him play in college. They are a very close family and that will be a big factor in his decision."