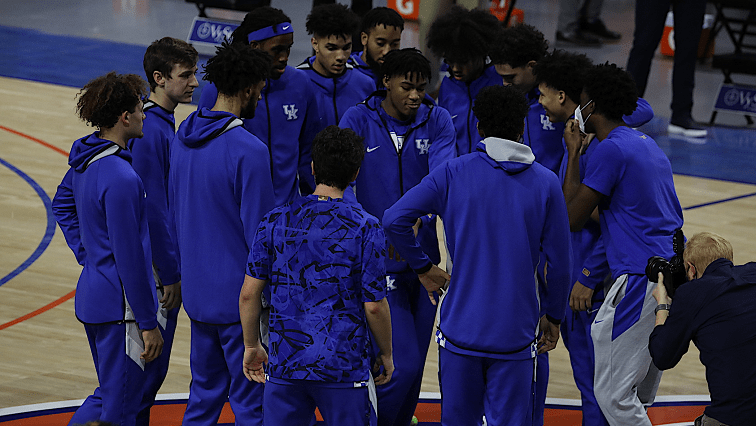 Kentucky hopes it has things going the right direction now with a three-game win streak but the team it plays tonight, Alabama, has won five straight games, including four in Southeastern Conference play, and six of its last seven after a 94-90 win at Auburn Saturday.
"They're doing really good so far and it's a great team. A lot of good players. We've got to be locked in on defense and lock in on the scouting report," Kentucky center Olivier Sarr said Monday.
Kentucky has revitalized its offense and is averaging 77 points per game in league play after struggling to get to 65 points during a six-game losing skid before conference play started. The Cats are even leading the SEC in 3-point shooting at 46.8 percent (22-of-47) and rank third in field goal percentage (.457).
Alabama has won more with defense as the Crimson Tide rank second in field goal percentage defense (.379) and 3-point field goal percentage defense (.272) and third in scoring defense (72 points per game). Alabama is also third in steals with 8.8 per game.
Alabama ranks among the top-40 in the nation in both offensive and defensive efficiency, according to KenPom.com. Alabama is also the fifth-fastest team in the nation, averaging 14.2 seconds per possession according to the same site.
Senior guard John Petty, a one-time UK recruit, has hit 22 3-pointers in 12 games. He has 256 career 3's and needs only eight more to become Alabama's all-time leader in 3-pointers.
Petty (12.9 points per game) is one of four Alabama players averaging 12 or more points per game for coach Nate Oats. Guard Jaden Shackelford leads the team at 13.1 followed by Jahyon Quinerly at 13. Herbert Jones adds 12.4.
Jones is the team leader in rebounds (6.5 per game), 3-point percentage (.500), charges taken (4), deflections (42) and floor divers (10). The versatile Jones also dishes out 1.9 assists per game.
"It's a great battle test. We've been good so far in the league and their team too. I think it's going to be a battle. It's going to be a war. It's going to be a great test for us," Sarr said about Alabama (9-3).
Freshman Isaiah Jackson knows every game UK has played has been a "war" and doesn't anticipate anything different tonight.
"This one is a war too. We're preparing every day for practice and then practice to prepare for every team we face including Alabama. We'll come in fighting," Jackson said.
Sarr said not to worry about the controversy created when UK players and coaches knelt during the national anthem Saturday at Florida being a distraction.
"Not at all. That's part of what we do. We're just locked in on what we've got to do," Sarr said. "People talk outside. We just focus on the court and focus on what we've got to do to get ready for that game.
"I think guys are more than locked in and more than ready to play that game."