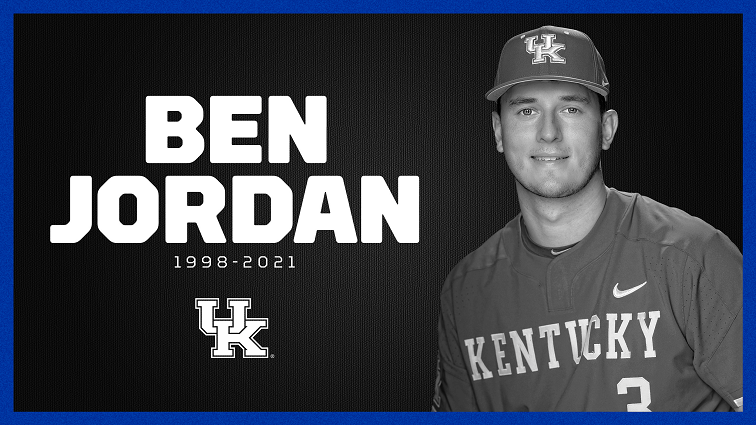 ESPN/SEC Network announcer Tom Hart remembers getting to spend a little bit on the Rupp Arena court when Ben Jordan first joined the Kentucky basketball team as a walk-on last year. The 6-9 Jordan came to Kentucky to pitch baseball and had a fastball in the 94- to 96-mile per hour range. But when UK basketball coach John Calipari needed some extra players for practice, he turned to Jordan — who was the all-time leading rebounder and shot blocker at West Carter High School as well as the school's eighth all-time leading scorer. He averaged 14.4 points and 12.4 rebounds per game his senior year.
"We talked about him sharing these stories for years. So sad," Hart tweeted Tuesday after learning of Jordan's passing at age 22.
His death was first reported by Zack Klemme of the Ashland Daily Independent and confirmed by UK Athletics.
Jordan redshirted during the 2018 baseball season because of a high school injury that required Tommy John surgery. As a redshirt freshman in 2019, Jordan pitched 8 2.3 innings in 10 games and was being counted on to be one of UK's bullpen pieces this season.
Kentucky coaches and officials were stunned by Jordan's passing.
"We are devastated to learn of Ben Jordan's tragic passing last night. There are no words to express the shock and heartache our team is feeling with the loss of Ben," UK baseball coach Nick Mingione said. "He was an absolute joy to coach and be around. His coaches, teammates and brothers loved him dearly. His smile, his sense of humor and love for this university will never be forgotten.
"He will be missed beyond measure. Our thoughts and prayers are with Ben's family and we will support them in any way we can during this extremely difficult time. We are all hurting and will find a way to carry Ben's legacy forward and keep him in our heart always."
Jordan was not on the basketball team this year but Calipari still said "our hearts are broken" after learning of his death.
"It is difficult for me to express and to put into words what a tragedy it is to lose a young person too early. Ben impacted our team last season in so many ways with his kind heart, his big smile and his wonderful personality. He cared so deeply about this place and it meant so much to him to be a part of this team," Calipari said.
"We are grieving today over the loss of a teammate and a brother, but Ben will not be forgotten. We ask that everyone keep Ben and his family in their thoughts and prayers during this time as we try to find a way forward. Ben, may you rest in peace."
Jordan jumped at the chance to help Calipari's team because his dream had always been to play basketball at Kentucky. Just as Hart noted, Jordan appreciated just having the chance to be part of the basketball team as well as the baseball team.
"Ben loved and cherished being a Wildcat. He had a servant's heart and answered the call whenever asked, including putting his promising baseball career on hold to help the basketball team when it needed him," UK athletics director Mitch Barnhart said. "I remember meeting Ben on his official visit to our campus and being so impressed with his passion for this state and the University of Kentucky. He will be missed immensely."