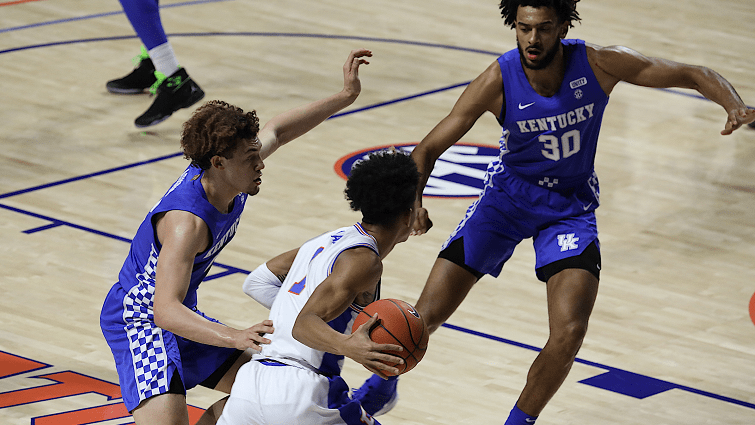 Isaiah Jackson believes everybody on the team "bought in" to what coach John Calipari wanted during Kentucky's three-game win streak going into tonight's home game with Alabama following a historic six-game losing skid by the Cats.
"Like everybody was tired of losing and we've just been working everyday in practice. Everybody's been working and everybody has just finally bought in," the UK freshman said. "It's clicked and this is where we're at. It's just going to keep getting better."
Kentucky is 3-0 in SEC play for the sixth time in 12 seasons under Calipari but Alabama is 4-0 in league play and leading the SEC.
Kentucky, a team that could not make a 3-pointer most of December, is 22 of 47 from 3-point range in its three-game winning skid. UK was 30 of 120 from 3-point range in its first seven games. One obvious reason for the improvement is freshman Dontaie Allen getting a chance to play the last three games and making 11 of 19 from 3-point range.
The Wildcats have almost improved their free throw shooting from 66 percent the first seven games to 77.4 percent (41 of 53) the last three games. Kentucky has been plus or even in assist-to-turnover ratio all three wins, something it did in only two of the first seven games
The defense has got better, too. The Cats are averaging 8.7 blocks per game during the win streak compared to five per game during their 1-6 start. Kentucky is also averaging 8.7 steals per game in the streak after making just 5.9 per game the first seven games.
Balanced scoring has been a huge boost. Four players have scored in double figures each game of the win streak, something that happened only once in the first seven games. Five players are averaging double figures during the winning streak led by senior forward Olivier Sarr at 16 points. Redshirt Dontaie Allen is next at 14.3 points per game.
"It feels great. We stayed positive during the tough time, but you can feel guys are feeling more confident," Sarr said. "We are all feeling more confident, more comfortable. It just feels great."