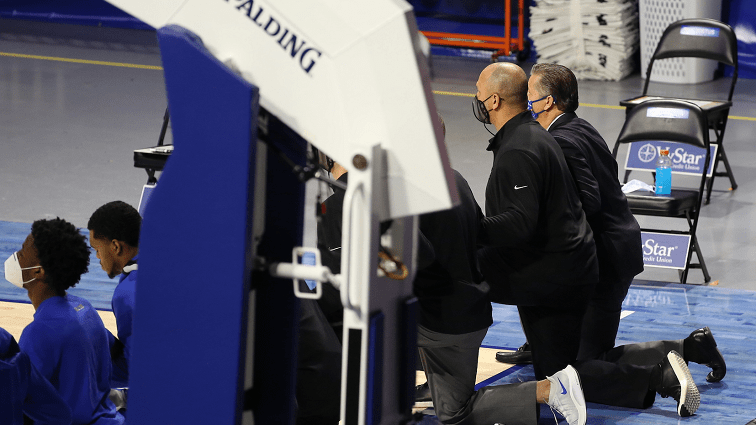 Just as he did on his weekly radio show Monday night, Kentucky coach John Calipari tried to explain after Tuesday's 85-65 home loss to Alabama that his players meant no offense to current military members or veterans when they knelt during the national anthem before the win at Florida.
"This had nothing to do with the military. They saw all this stuff going on and felt they needed to do something," Calipari said.
The protest was accepted by some UK fans but harshly criticized by other fans. The players said they expected some reaction but probably did not know just how big a backlash there was going to be.
"These kids are good kids. They've got good hearts. Again, this political time, probably not a real good time to do it," Calipari said. "But when they came in, we really feel strongly, we want you to kneel with us. I put my hand on my heart even though I did kneel.
"I have friends in the military, friends in the police. This is our country right now. Anything that's done you're either for something, for a party or against a party. That's not who they are. I like to think their civic duty of voting, they all did. I don't know how many of you voted when you were 18 or 19. I didn't. They have.
"Their statement was peaceful. It was a peaceful statement. Hopefully going forward we're going to figure out and help them have some actions that are not in front of the public, that are not in front of the TV, but things they can do to bring people together or make a difference.
So did he think it was a mistake for the team and coaches to kneel
"I am not saying that," Calipari said in response to that question from Jon Hale of The Courier-Journal. "That's what they wanted to do. The timing of it, with all that's going on right now, they felt the timing was right because of what they're seeing on TV. Now they're like, OK."