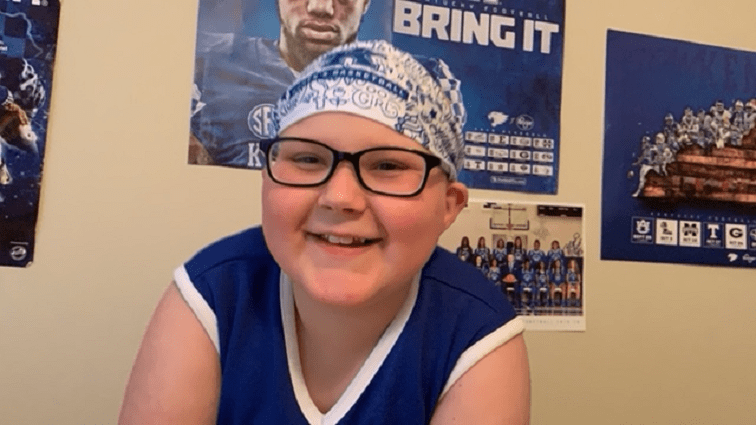 Last year UK players, from left, Dre'una Edwards, Blair Green, Emma King and Sabrina Haines visited with Ellie Hurley. Recently Hurley got even more excited when she got a Zoom call from Rhyne Howard. (Morgan Hurley Photo)
Nine-year-old Ellie Hurley is a "really big UK fan" who is now going through chemotherapy for the second time after first being diagnosed with Acute Lymphoblastic Leukemia at age 3.
"She had a relapse last July," her mother, Morgan Hurley, said. "Except for the chemo, she is a normal third-grader. She likes to explore and generally create a ruckus."
Some UK athletes have visited Kentucky Children's Hospital when Ellie has been a patient — her first treatments lasted almost two and a half years before she was in remission in February of 2017. Her mom jokes that former UK football player Kash Daniel is her daughter's best friend.
University of Kentucky basketball players Blair Green, Sabrina Haines, Emma King and XXXXXX visited Hurley at the Lexington hospital last Valentine's Day and distributed "joy jars" to patients.
"We had not met a girl UK athlete before. We had met football players and they were wonderful. Her best friend now is Kash," Morgan Hurley said. "But getting to meet a girl athlete was such a big deal for Ellie. She has never seen one except at local high school sports, never one that has the pressure of being a college athlete. They were all so nice, too."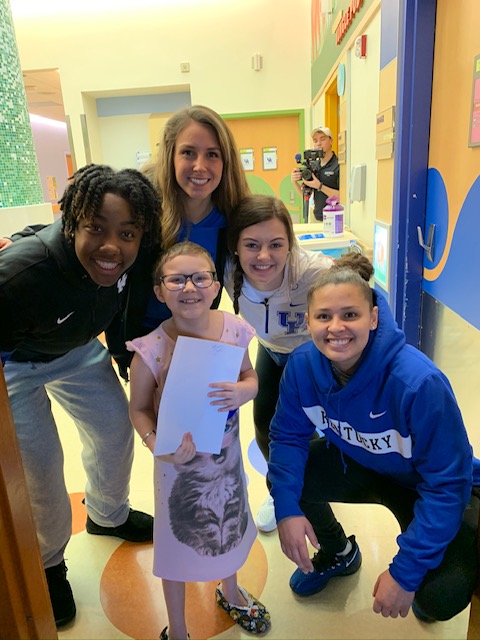 That's why Ellie was thrilled recently when UK Athletics reached out to her about helping with the player introductions before Kentucky hosted South Carolina.
Ellie and Morgan had planned to go to a UK game this year but could not because of her cancer and COVID-19. They watched a few games online so Ellie could see Rhyne Howard, the player her mother never stops talking about.
"She had asked about trying to meet Rhyne since she was not at the hospital last year and I had told her if we went to a game she might get to meet her," Morgan said. "I was hoping COVID would be subsided so we could go but that obviously did not happen."
Then they got the email rom UK about Ellie being one of the children picked to introduce the team.
"I mentioned to the lady from UK that Ellie was excited about doing this but was upset she did not meet Rhyne last year," Morgan said. "Then a couple of days later we got the email saying Ellie would be announcing and asked if we were interested in a Zoom (call) with Rhyne."
Guess how that call went?
"Ellie was nervous on the Zoom call but she was excited, screaming, shouting," Morgan laughed and said. "She said, 'Mom, she is the greatest basketball player ever.' Ellie wrote down questions in her notebook to ask Rhyne. They talked basketball and what it is like to be a girl athlete at UK and some other stuff."
Morgan is from Nicholasville/Harrodsburg and Ellie was born in Barbourville. They live in Harrodsburg now to be closer to the UK hospital.
Morgan's grandparents were both big UK fans. She says her grandpa was the "world's biggest UK fan" before he passed.
"They would play Duke and he would pace around the living room during the game," she said. "He taught me all about sports and UK. Ellie could scream, 'Cats, Cats, Cats' while she was still learning how to talk.
"We got to meet quite a few athletes through Kentucky Children's Hospital and that has just fueled Ellie's love for UK sports even more. She doesn't care what sport it is, she is the overall No. 1 fan in any sport."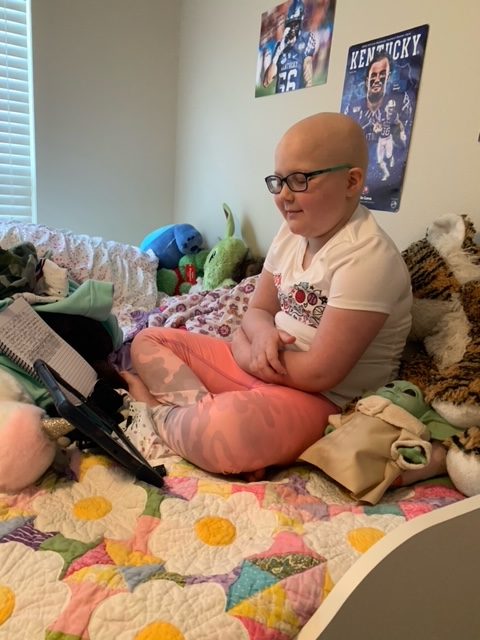 Ellie got to represent Kentucky Children's Hospital as the "Lift Them Up" Kid during a UK football game in October and got to be around UK players Luke Fortner and Josh Paschal, a cancer survivor also.
"She has reached the point in her schedule of chemo that we only need to go in once a month unless she has a fever or something," her mother said. "She is most only at home chemo.
"She'll still follow up monthly with her doctors for the next few years but she'll be finished with treatment in July. Hopefully this time she'll stay in remission.
"She is an extremely happy child. We have worked very hard to make sure she can get all the happiness she can manage. Ellie has never really met a stranger. She would love to meet anybody but I am telling you she really loved talking with Rhyne Howard."