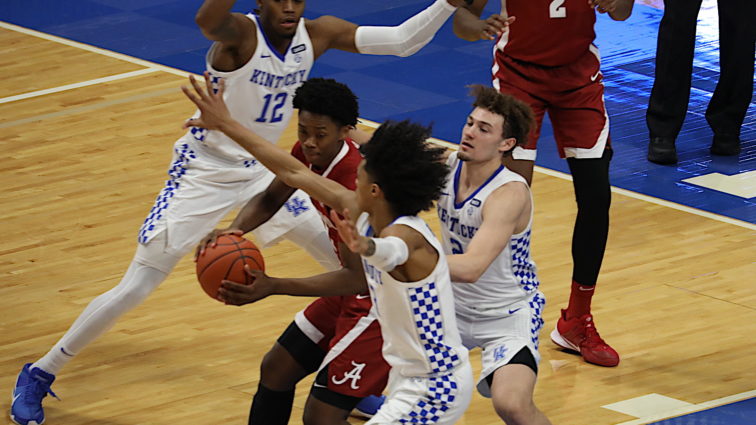 Alabama not only scored 85 points against Kentucky but the Crimson Tide made it look easy Tuesday night. They shot 46 percent overall (31 of 68) from the field and 47 percent (14 of 30) from 3-point range. But nine of the shots Alabama missed where shots UK blocked, including seven by Isaiah Jackson.
What Alabama did was either put up a 3-pointer or drive to the basket almost at will.
"I feel they played exactly the same way that the coaches said they would play. They would shoot a lot of 3's, then they would drive to the basket," Kentucky freshman Dontaie Allen said. "They played the exact same way, but our execution was not there."
Alabama coach Nate Oats said his team's game plan was not that complicated.
"We were able to spread them out. Our guard drill, take them off the dribble, we kind of got whatever we wanted off the dribble," Oats said.
Got whatever we wanted off the dribble. Try to remember the last time you heard another coach say that about UK's defense.
"You know it obviously helps when you make 3's, so it's great when you have shooters like (John) Petty and Shack (Jaden Shackelford) and our bigs can make shots," Oats said.
And they made a lot of shots against Kentucky.
Allen was asked if it was like choosing a poison deciding whether to challenge 3-point shots or try to keep Alabama from driving.
"In a way, but our game plan was to play up so it would force them to drive. So, I think that's the best way to answer that question," Allen said. "The execution was not there. Everybody didn't slide their feet as well. There were a lot of things that went into it."
I asked Calipari after Tuesday's loss what caused his team to get beat to the basket so easy and so often.
"We were late to everything. We were backing away from players, probably because of what you said," Calipari said. "They're afraid. I'm going to get beat on the dribble and look bad, I'll back away, give them a 3."
Here's the scary thing for UK fans — and hopefully for UK players who have had trouble stopping the dribble all season.
"This league, it's not going to get easier. People were playing the way they are, which is space the court and beat people on the dribble," Calipari said.
"Let me ask you, did we have anybody that could stay in front of anybody?"
I told him not anyone that I could remember during this game.
"I don't know," he said. "I mean, didn't look like it. We got work to do."
Yes they do and not a lot of time to do it before they play at Auburn Saturday and you know coach Bruce Pearl is going to turn his guards loose to attack Kentucky.