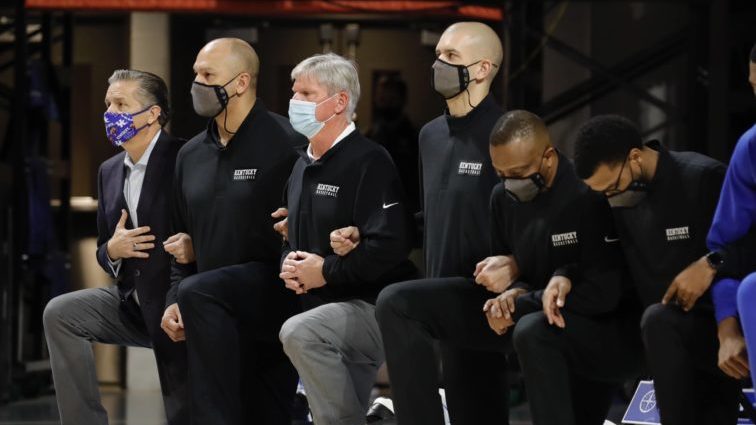 University of Kentucky fan Mark Howard sent letters to both University of Kentucky president Eli Capulouto and athletics director Mitch Barnhart asking them "who runs the UK basketball team" after the players and coaches knelt during the national anthem before the Florida game.
Howard felt Kentucky coach John Calipari should have told the players "no" when they asked to protest.
"I have been done with Cal since his 'greatest day in the history of UK basketball' comment at the NBA draft years ago. He may be considered a great recruiter but he does not know how to put a team together," Howard said. "Only requirements are athletic, long and want to go to the NBA after one year. No others need apply."
I asked Howard if he heard back from either Barnhart or Capulouto. He did — kind of.
I thought I would share those responses with you.
First one if from Jay Blanton, UK Chief Communications Officer, for Capulouto:
"Thank you for your questions and your concerns.
"Our players and coaches were utilizing their First Amendment rights to free speech and self-expression as part of concerns they have expressed about a number of societal issues. That right is one we all cherish.
"Our players also understand that while they have the right to express themselves, others share that right as well. Some people will be supportive. Many, though, will be deeply opposed to not only what they are expressing but how they have chosen to do so.
"In that respect, this is an important learning process for these young students, who are learning both the freedom and power that comes with being public figures as well as the responsibility and the attention that goes with it as well.
"I know that may not alleviate or address your concerns. But I hope it explains what our players have done and how we view it as part of an ongoing educational process for them. In the meantime, please know that I will share your concerns with the appropriate administrators as well."
This one came from Shellee Hein for Barnhart:
"Thank you for taking the time to send an email regarding the team's decision to kneel during the National Anthem. Your interest in our program is appreciated and your feedback is valued. The comments we have received have been both positive and negative.
"My faith is the most important thing in my life and it is my faith that ensures that I extend grace to those with whom I might not agree. While I will always stand for the National Anthem, I respect the First Amendment rights of those who choose to express themselves differently."
The email also included the joint statement the president and athletics director put out after the protest supporting the players' right to do so.