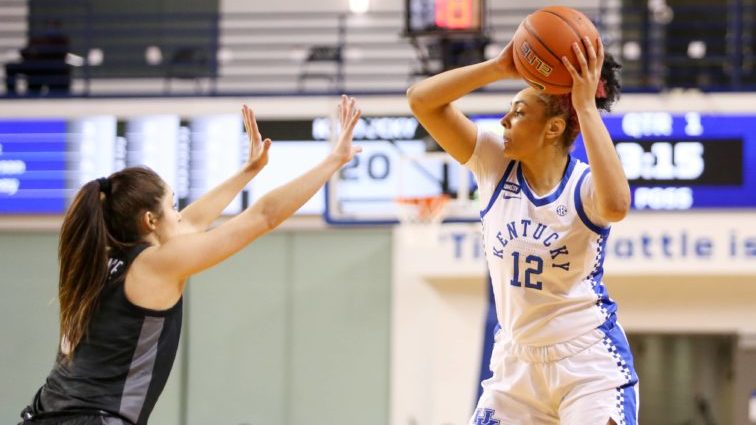 Before he decided to resign, Matthew Mitchell warned me not to expect too much too soon from guard Treasure Hunt, the highest ranked recruit he had ever signed at Kentucky. Before the season started, new UK coach Kyra Elzy said the same thing. Just give Hunt time to adjust to college and wait for her opportunity.
That opportunity came Sunday against Vanderbilt in an 80-73 win when she played 35 minutes, scored 11 points, grabbed five rebounds, blocked two shots and had two assists. She hit two key free throws late in the game to help seal the win.
Before Sunday, she had played 71 minutes in seven games and had not played in UK's previous five SEC games.
"Definitely was a big opportunity for Treasure. We tried to motivate her before the game because we knew she was going to get this chance. I was so proud of Treasure. She did a great job tonight," guard Chasity Patterson, who had 16 points, seven rebounds and seven assists, said.
"She was being aggressive. We already knew what she could do and having the opportunity to do it. It was good to see her doing what she does best. I think this is just the start of something special for her because she's definitely a talented player."
Junior Blair Green had a career-high 22 points thought Hunt "stepped up" to exactly what Elzy wanted her to do.
"She came in, hit some big shots, got some big rebounds and even a couple of blocks that we really needed," Green said. "I thought she hustled really well and she ran the court great. She really needed that tonight."
Elzy said her star freshman got "baptized by fire" and responded the best way possible.
"She had five rebounds, four offensive rebounds, and I think that was the fastest that I've seen her move in awhile, when we pitched ahead and she finished with a layup," Elzy said. "I think she showed tonight how skilled she is offensively. She can score at all three levels, and her size is a factor."
Elzy said Hunt has been practicing well to get her ready for her first start and big opportunity at UK.
"Every day they (freshmen) are being challenged in practice, and we just talk to them about trusting the process, and when your number is called you have to be ready to step up, and I thought Treasure Hunt did that today," Elzy said.