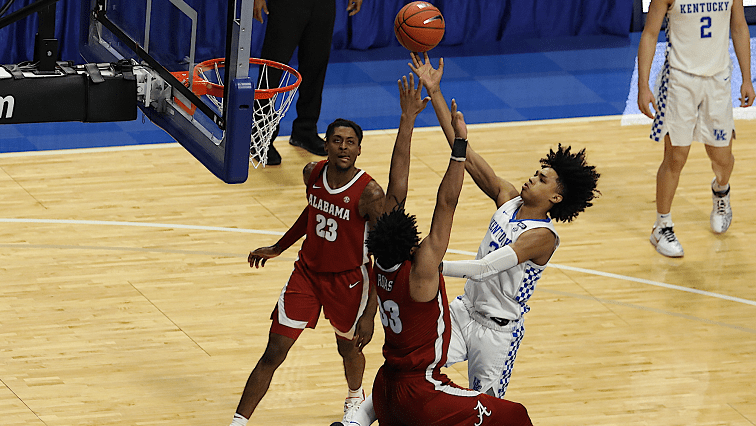 If you saw Brandon Boston play in high school you would have seen a confident, explosive player who dominated the majority of games he played no matter who he was playing against. He moved from Georgia to California his senior season to upgrade the competition he would play against but still had a McDonald's All-American season. He was a consensus top 10 player in his recruiting class.
However, he's not been the answer Kentucky coach John Calipari or UK fans were expecting this season. He does lead the team in scoring at 11.5 points per game but he's taken 38 more shots than anybody on the team. He has the lowest shooting percentage (34.7) of UK"s top 10 players and one of the lowest of any UK regular in the shot clock era. Boston has missed 33 of 40 3-pointers, has just 15 assists in 12 games and has been to the foul line only 40 times in 360 minutes played.
So what has happened to the "can't-miss prospect" who was projected as an NBA Draft lottery pick before he even got out of high school?
"The competition is different, so you're not playing now against high school players. You're playing against somebody who is three years older than you. More physical, more trained," Boston said.
"He had no summer here. The fall was, might as well throw it out. And so now you just start playing basketball, and what you do, the habits you need to create, he really hasn't created yet."
Like what?
"The ability to draw fouls versus avoid contact and flip balls. Which one are you seeing right now? The ability to get the ball by the man, which you can do, or, 'I'm going to play with the ball.' All of those kinds of habits that he's got to have different habits. 'I'm a downhill runner. I'm a free-throw drawing beast. I don't have to be strong but I'm drawing free throws,'" Calipari said.
"And then, really consistent in how you train so that when you walk in the game it's the same. It's just taken him more time, and we've given a lot of room to go. He's scoring points but they're not in an efficient way. I haven't given up on him. But he's not playing the way he needs to play for himself or for us to win ball games."
He may not be playing the way UK needs to win games, but he has played at least 26 minutes in every game and has played more minutes than any other UK player this season.
In the losses to Alabama and Auburn, he had a combined 10 points on 4-for-16 shooting from the field (1-for-5 from 3) and 1-for-3 at the foul line. He had 10 rebounds in 53 minutes played but had six turnovers, including five in 27 minutes at Auburn. He had one assist in each game but did have three steals against Auburn.
In five SEC games, Boston is 14 of 45 from the field with just 18 rebounds. The game before he was 3-for-11 against Louisville.
Calipari said after the Auburn loss he could not "steal" a player's heart by benching him when things were not going well, a statement most UK fans did not agree with.
The coach double downed a bit on the same concept Tuesday when he was obviously talking about Boston.
"A kid comes here and three games you decide, 'Well, he can play or not play.' I can't do that, and I've done this 35 years. It takes me time. Maybe you (media) can or our fans can. I can't," Calipari said.
"So I've got to let it play out a little bit. Do I wish kids would jump up more? Yeah, I do. But they're not robots, they're not computers. The cream also rises. It always does here. And sometimes it affects guys where, 'OK, I'm not, I can't.' But in most cases, they know we did this, everybody had an opportunity to show."