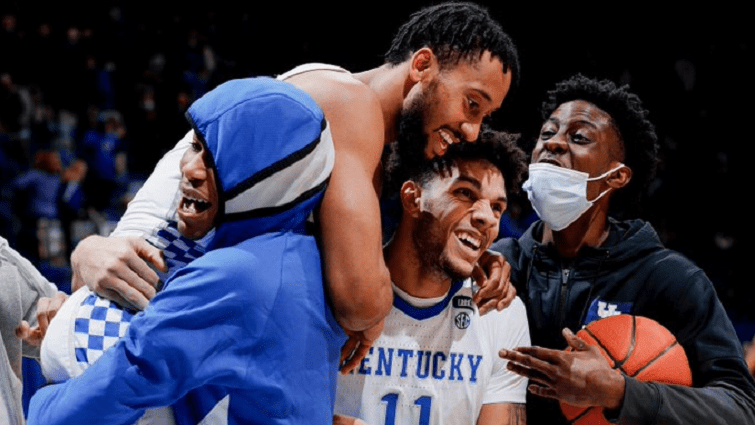 Eight Kentucky players have played more minutes than redshirt freshman Dontaie Allen this season. Only one player — Davion Mintz — has more 3-pointers than Allen. Mintz has hit 19 of 55 — 34.5 percent — while Allen has made 17 of 36 — 47.2 percent. The rest of the team has made 24 of 111 3-pointers.
Kentucky is also averaging only 68.5 points per game but has not scored over 65 points in any of its eight losses.
Fans clamored for Allen, a former Kentucky Mr. Basketball from Pendleton County, to play more but he barely left the bench for seven games before erupting with 23 points in an overtime win at Mississippi State in his first chance to really show what he could do.
"I have probably been too protective of Dontaie Allen," Kentucky coach John Calipari said on his weekly radio show Monday night. "I wanted him to be 100 percent mentally and physically ready for the moment he has been waiting for his whole life.
"I could have thrown him in there quicker but I didn't. He has found a role and it is working. It's not Dontaie (that needs to do more). We have got to get the rest going."
Calipari initially seemed hesitant to play Allen because of his defense. Even after his Mississippi State outburst, Calipari seemed to nitpick his defense before changing course and going on social media pointing out solid defensive plays Allen made.
Now he's on Allen for not shooting enough. He felt Allen passed us two shots at Auburn and then passed up shots in practice Monday.
"Some of it (fixing the offense) is how do we put guys in position (to score)," Calipari said. "Some stuff we are doing for Dontaie and trying to get him free. Players are starting to find him. Today he passed up shots and I told him to shoot. 'You gotta shoot the ball.'
"Dontaie has made us different. When we have a certain group in there our numbers are as good offensively as anybody's. Guess what? Those guys have got to play together. Instead of 10 minutes, maybe they play 20 minutes."
Calipari would not name his best five offensive players during his radio show even when prodded by host Tom Leach. My guess would be Allen, Keion Brooks, Isaiah Jackson, Devin Askew and Davion Mintz. Maybe Toppin for Jackson. But not BJ Boston even though he's UK's leading scorer at 11.5 points per game because he is shooting 35 percent from the field and 17 percent from 3-point range.