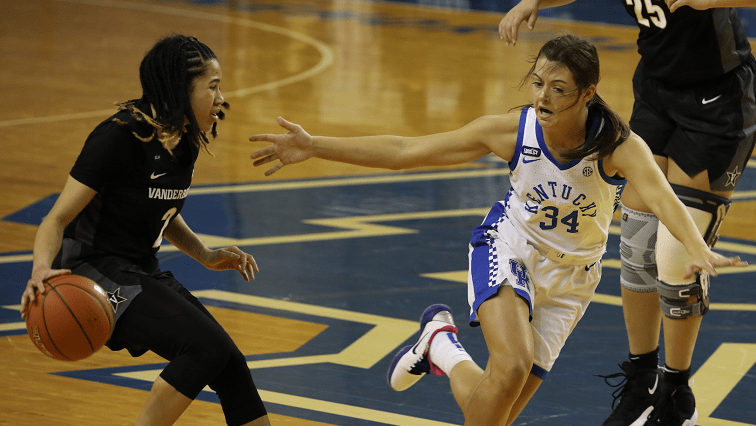 Emma King started Kentucky's first two games but then due to COVID-19 protocols was unable to play in another game for 20 days when she got in for four minutes against Wofford. However, she didn't play again until 19 days later when she got 10 minutes in the SEC win over Vanderbilt on Sunday.
King, a sophomore, is not one to complain. She had negative test after negative test during her COVID quarantine time but never complained. She didn't complain when she didn't play in UK's first four SEC games.
"So happy for Emma to get in. She did exactly what we needed her to do – play as hard as she could play on both ends of the court. If she was open, take open shots, keep somebody in front of her and any hustle plays, she needed to be involved in. She did just that," Kentucky coach Kyra Elzy said after the Vanderbilt win when her team was missing injured Rhyne Howard and four players out with COVID protocols.
"We went around, talking about strengths of different people and the whole team gave her a vote of confidence that she plays hard, that she buys in. And I just told her there, she's every coach's dream. She plays hard, she wants to get better, she watches film and she trusts the process. Happy to have her have the opportunity to play today."
Junior Blair Green, who had 22 points against Vandy, was glad to have King back playing.
"Emma is here for a reason. She's prepared. We're always getting shots with each other before and after and even off days. We're always in the gym getting up extra shots," Green said. "I have the most belief in her and she really stepped up and played a good role today."
Elzy hopes the experience King and freshman Treasure Hunt got against Vanderbilt will help them. Kentucky plays at Auburn tonight trying to improve its 3-2 SEC record.
"I hope for both of them that they gained a lot of confidence in themselves. That they can come in and make a difference when their number is called," Elzy said.
"Emma, I've talked about her over-and-over this season, she works so hard, and she is coachable, and she wants to do the right thing to help this team win. And then Treasure, she got baptized by fire. I think it is just confidence that they can come in and contribute to this team."