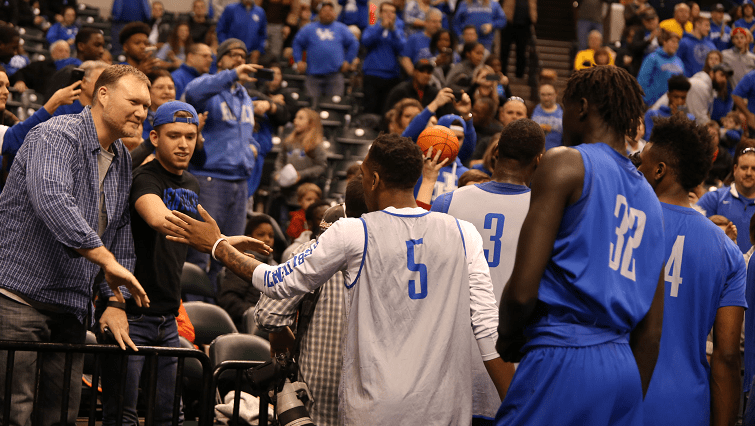 If there is a SEC Tournament, fans will not be near the court or players. (Vicky Graff Photo)
It doesn't take a rocket scientist or Basketball Benny — one of Kentucky coach John Calipari's favorite terms — to figure out that barring a miracle UK is going to have to win the Southeastern Conference Tournament to avoid missing the NCAA Tournament. Kentucky last missed the tourney in 2013 — and I am not even thinking about counting last year when COVID won and no NCAA Tournament was played.
But many, including myself, have wondered if there even would be a SEC Tournament or any conference tournaments this year. The NCAA obviously wants have the NCAA Tournament after the financial hit it took last year when the tourney was cancelled.
Bringing together so many teams at the same venue the week before the NCAA Tournament to have conference tournaments just seems to be asking for trouble with COVID issues that could put some teams in quarantine and out of the NCAA if they did qualify. Maybe teams safely in the tourney will just opt out of the conference tournaments.
Kentucky won't have that luxury with a 5-10 mark even if Calipari thinks there is still plenty of time to build a NCAA resume with only 11 games left on the regular-season schedule. Just to have a winning season UK would have to go 9-2 to get to 14-12. At 8-3, the Cats finish 13-13. At 7-4, UK's final record would be 12-14.
The good news for UK is that it seems like the SEC still plans to have the tournament as of today. I got an email Tuesday saying SEC institutions are "still formulating protocols for the 2021 SEC Tournament in Nashville, Tennessee, March. 10-14 due to the ongoing COVID-19 pandemic."
The SEC and its schools are trying to gauge media interest for the event knowing there likely will be no floor access or locker room access and that postgame interviews will be conducted via Zoom as they have all season long. Translation: I can watch the games at home and still participate in the same Zoom conference that I could being somewhere in the socially distanced media arena in Nashville.
With reduced access to players and coaches, I'll be fine at home.
No word on how many fans will be allowed in the arena. If you normally go to the SEC Tournament and have inquired about tickets, let me know what you have been told.