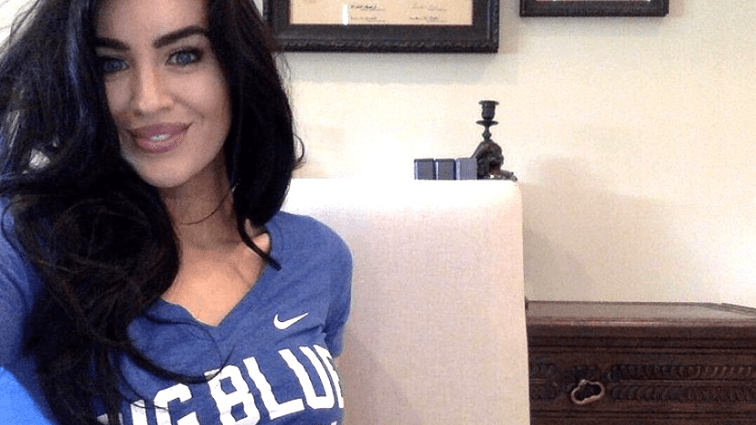 She might have grown up in Louisville and graduated from the University of Georgia, but Anna Maria Tarullo says "my blood could not be bluer" and that's why she calls it a dream come true to be the new co-anchor on BBN Tonight on WLEX-TV. She will join co-host Keith Farmer for her LEX 18 debut on March 22.
"I graduated from Georgia in 2015 but can still remember working for the Georgia athletics department and wearing blue on the sideline for a game against Kentucky," said Tarullo. "I am a Cat until I did and always have stayed true to the blue."
She has been in West Virginia about 18 months working as sports director for WOWK in Charleston. She has a vast sports background in college football and basketball as well as professional sports.
"This is going to be a great job because it will mostly be covering Kentucky sports," Tarullo said. "I have been trying to make my way back to the Bluegrass for a while.
"There are actually a lot of Kentucky fans here in West Virginia and I interact with a lot on Twitter just about every day. I am just so excited for the opportunity to be back in the Bluegrass."
"It really is such a dream come true for me. In the future when things return to normal and I get to go to bowl games and hopefully some Final Fours, it will be so awesome."
Her father and brother are both Louisville graduates and growing up she went to more Louisville games than Kentucky games. But it was always UK for her.
"In fifth grade I went to a Kentucky game and it won me over. The guys in the blue blazers (Committee of 101), just the tradition … I couldn't get enough of it. It was really like being on hallowed ground watching Kentucky play."
She's looking forward to interacting with Kentucky coach John Calipari because he reminds her of her father.
"I am Italian. My dad has family where Cal is from. They speak the same, have the same facial expressions," Tarullo said. "My dad and Cal are the same person. It's going to really be fun for me."
Her infectious enthusiasm for sports, especially UK, will come across when she's on air.
"I couldn't change it even if I wanted to. I am waving to the camera. I just don't think about it and just talk," she said. "Why do this job if you change who you are as soon as you start talking. I have fun. We are talking sports and it will really be fun talking Big Blue sports and we are definitely going to have fun with it."