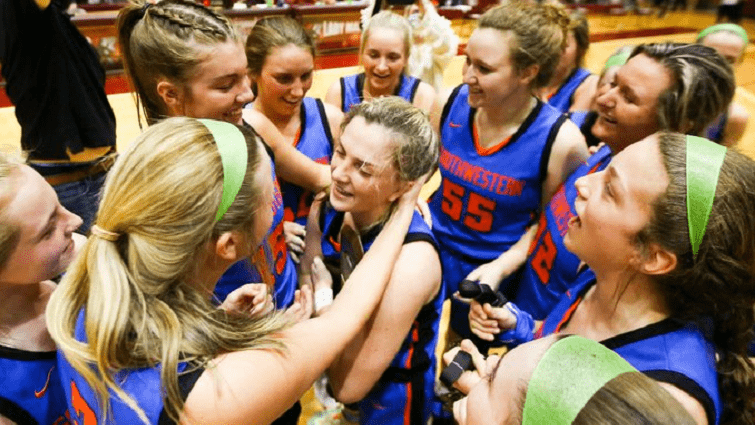 Southwestern coach Junior Molden believes Anderson County has been the "odds-on favorite" all season to make a big run in the state tournament. His team plays Anderson Wednesday night at 8 in Rupp Arena. The Bearcats are 26-2 and lost only to Ryle and Boyd County in back-to-back games. Their leading scorer is Amiya Jenkins at 17.2 points per game but they have four players averaging between 7.6 and 9.2 points per game.
Molden says Anderson has been solid defensively all season and he noted that Anderson might be the "best girls basketball team defensively" he has seen. However, he hopes the Warriors can counter behind the play of Alexa Smiddy.
Smiddy averages a team-high 15.1 points per game and is second on the team in rebounding at 4.4 per game. She hits 43 percent overall from the field and has 39 3-pointers.
Southwestern lost to Ryle in the 2019 state championship game and Molden took over as head coach last season. Smiddy was a "facilitator" but Molden figured out going midway of the season going with a four-guard lineup would make her and his team better.
"We changed to the four-guard lineup but she was still expected to score," Molden said. "This year I have asked her for eight assists and 15 points per game. She stays after practice after and works on her 3-point shot."
The coach says Trevecca Nazarene University in Nashville "stole" Smiddy by signing her early during the COVID-19 pause. He calls her the state's best point guard.
"Franklin County has a great point guard (Brooklynn Miles). No disrespect to anybody else, but I have got the best point guard in the state," Molden said. "She will play her heart out and you are going to get to see (in the state) what I see every day."
Molden has a special bond with Smiddy because his son dated her for the last four years. He wanted to see her stay close to him to play her college basketball but he said not to underestimate how hard she has worked to improve.
"It's been a weird year. We stayed in the gym and she improved so much. All she had to do was play basketball," Molden said.
Anderson County coach Clay Birdwhistell has been impressed by Smiddy.
"She is so active, plays so hard. That's the first thing I appreciate as a coach when I watch her," Birdwhistell said. "I think the most dangerous thing she does is create for others. She can get to the rack when she wants. Her ability to get in the paint and create for others is at a very high level. She is really a good high school point guard."
South Laurel coach Chris Souder, who will face Franklin County at 5 p.m. Wednesday, has played against both Smiddy and Miles, a Tennessee signee.
"Alexa is pretty damn good. I am not going to argue a lot with Junior," Souder joked when asked which point guard was better.
But Molden knows it will take more than Smiddy to beat Anderson. He needs Ayden Smiddy, Alexa's younger sister, and Kinsley Molden, his daughter, to make 3's. They combined for 85 this season.
"We want to run and gun and get out with our four guards," the Southwestern coach said. "We have won 12 in a row since we went to that. We have to make big shots with younger kids.
"Mercer County denied our 3 (in the 12th Region title game) and we had to go inside. If Anderson tries to take away the 3, then I have got a plan inside. If they let us shoot 3's, we will shoot them. If the only way we can compete with Anderson is shoot a lot of 3's, we will."
Birdwhistell appreciates the spacing Southwestern does with its offense and knows the Warriors will take more 3's than most teams. However, all his players have the green light from 3-point range as well. He has seven players that have hit at least 13 3-pointers and four have 31 or more.
"We have really good players that are very, very unselfish," Birdwhistell said. "We have a lot of kids who will play at the next level. A lot of times you see kids feel like they have to get their own (stats). We just don't have a bit of that. My biggest complaint at times is that they are too unselfish."