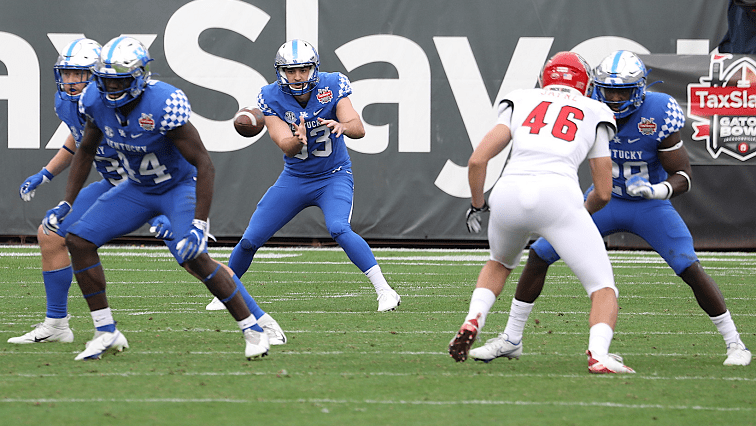 He's an All-American and 2019 winner of the Ray Guy Award given to the nation's top punter but Kentucky's Max Guy has never seemed overly optimistic about his chances of playing in the National Football League.
Why is he so modest about his chances after averaging a school record 46 yards per punt in 34 career games?
"Modest, I say honest," said Duffy. "I definitely have worked very hard at it. I like to underpromote and over-deliver. I don't need to talk about myself. I have never seen my role as important or overly influential. I think I have worked really hard on it (kicking)."
He jokes he would like to be the first person drafted in the Australian Football League and the National Football League.
"That would be cool. That would be a bucket list thing," Duffy said.
Duffy has spent part of the offseason training in Miami where he's done a lot of kicking and weight room work. He got to participate in the Senior Bowl and went through UK's Pro Day last week.
He's worked on converting to an American-style punter and also adjusting to kicking an NFL football.
"I have also done a lot of work to trying to fill out this shirt (with more muscle)," Duffy joked.
He normally rolled out and used a rugby-style kick at UK but says he can punt an American-style "spiral" if needed.
"We (Australians) are not terrible at spiraling. I have got to show I can do that on a consistent basis," Duffy said. "I thought I did decent in the Senior Bowl. "
He also gets to work out with Australian brothers Wilson and Jordan Berry in Lexington. Jordan Berry punted at Eastern Kentucky and is now with the Pittsburgh Steelers and recently signed another one-year contract. Wilson Berry is a UK signee and expected to take over Duffy's punting job this season.
"It's always good to be surrounded by educated people from a great country," Duffy laughed and said. "Jordan has really taught me a lot. It's great to be around someone much better than me. Wilson is also as good or better than me. It's quite funny being the third wheel and hearing Jordan yell at Wilson about what he can do better.
"Jordan has been really helpful to me through this whole (draft) process. He doesn't have to because he is competing for a job, too. Hopefully, I can help Wilson if he ever needs me. He has not yet asked me for advice. I don't know if he thinks I am good enough (to ask for advice)."
Duffy said the brothers understand if he makes a joke about cricket, a popular sport in Australia.
"I make a joke about cricket and nobody laughs. They understand my jokes," Duffy said.
Duffy's quirky sense of humor endears him to teammates but also enables him to keep his perspective as he awaits his NFL opportunity.
"It's exciting but none of that really matters," Duffy said. "What matters is me controlling what I can. If teams like me, they like me. I don't get carried away with other stuff I can't control.
"I have talked to teams. I always throw in there I am a sports psychologist if they need me for something outside of football. I don't see the point of talking myself up or saying I am the best or I had a great day. All that will do is set myself up to fail. If I do not put pressure on myself to perform and do the best I can, that's all I can do or worry about."