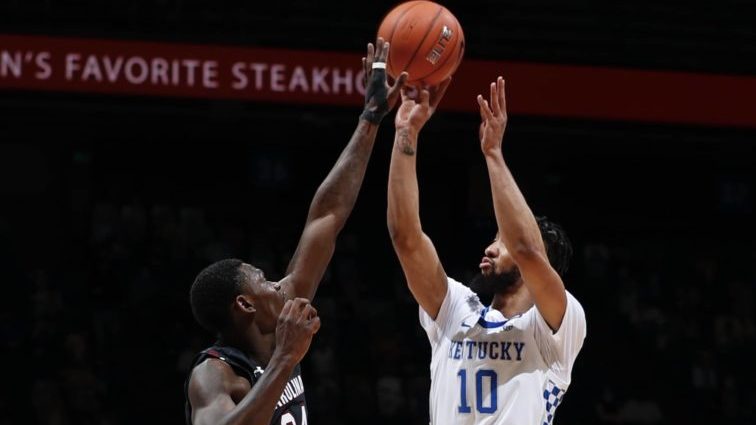 Davion Mintz won't say he will be back at Kentucky. But he also will not say he will not be back at Kentucky next season. Kentucky announced Monday that Mintz has put his name in the 2021 NBA Draft and will go through the NBA's evaluation process but will leave his options open and has not ruled out a return to UK. He will have until July 7 to make a final decision about keeping his name in the draft or returning to UK.
Barring some really unexpected feedback and unreal workouts, Mintz is not going to be a player picked in either round of the July 29 NBA Draft.
Mintz said the UK release his dream has always been to play at the professional level.
I believe at some point, whether that is now or down the road, that is where I will be. Figuring out when that time is right while weighing my love for Kentucky and thinking about the possibilities of next season has not been easy, and to be fully honest and transparent, I have not come to a decision yet of what I will ultimately do," Mintz said.
Kentucky coach John Calipari said Mintz was "doing the right thing" by not rushing to make a decision about his future.
"As I told his mom and dad, he is a young man I could coach for 10 years. Whatever he ultimately decides, he has a bright future ahead of him," Calipari said.
His return certainly would bolster UK's 2021-22 roster. He led UK in total points (288), 3-pointers (56), assists (77), and double-figure scoring games (17) last season when he averaged 11.5 points per game, including 16.7 points per outing over the last six games.
Mintz was probably UK's best and most consistent player over the course of the 9-16 season and he moved to point guard the final three games. His return would give UK a proven shotmaker/scorer and also a reliable backup point guard.
As of today, Kentucky does not have a point guard on its roster. Last year's starter, Devin Askew, transferred to Texas. Signee Nolan Hickman asked for his release from UK last week. Mintz is still debating his future.
Kentucky targeted Hunter Sallis but he picked Gonzaga. Auburn transfer Justin Powell was interested in UK but did not get a scholarship offer and signed with Tennessee.
Kentucky continues to recruit Las Vegas high school standout Jaden Hardy, a five-star combo guard, but the consensus is he will pick the G League to start his pro career over college.
Kentucky seems in better shape with five-star point guard TyTy Washington, the No. 3 point guard in the 2021 class and a one-time Creighton commit. He announced a top six of Arizona, Baylor, Kansas, Kentucky, LSU, and Oregon. Washington averaged 24 points, seven assists, and six rebounds per game last season and hit 41 percent from 3-point range.
Perhaps Calipari's Plan A remains Minnesota transfer Marcus Carr, who has also put his name into the NBA Draft. Carr is ranked No. 93 overall by ESPN on its draft list. He was third in the Big Ten in points (19.4) and assists (4.9) per game last season and shot 38.5 percent overall from the field.
Kentucky has also been in contact with several other point guards and Georgia Tech point guard Jose Alvarado has history with Orlando Antigua, who should officially be named to Calipari's staff soon.