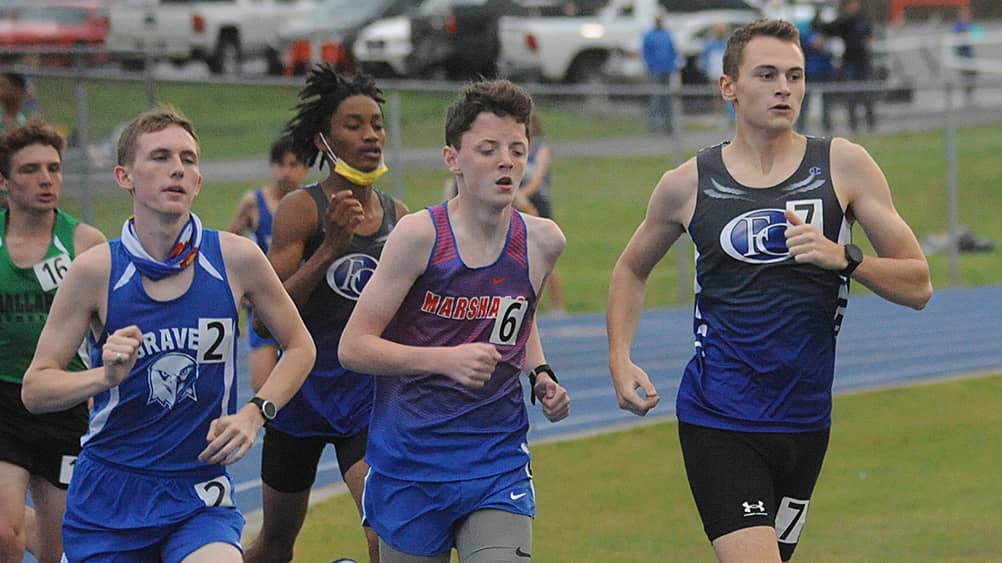 Fort Campbell's guys claimed first place at the Marshall County Double Quad Track Meet on Tuesday, narrowly edging out Graves County and the host school.
The Falcons totaled 128.5 points in the team standings, just one point ahead of Graves. Marshall was third with 123.5 points.
Top finishers for Fort Campbell included Niklas Sujanani, who won the 100-meter dash in a time of 11.25 seconds.
Cole MacMurray won the pole vault competition, clearing 10 feet, 6 inches. Owen MacMurray was third in that event at 7 feet, 6 inches.
The Falcons also took first in the 4×800-meter relay and were fourth in both the 4×100 and the 4×200 relay.
Cole MacMurray placed second in the 300-meter hurdles in 50.47 seconds. Darrion Hutson was fifth in 56.51.
Jeremiah Holley was second in the triple jump at 41 feet, 9.25 inches while Amari Waddy was fourth at 38 feet, 0.25 inches.
Hutson finished third in the 110-meter hurdles in 19.61 seconds. John Montalvo was fourth at 20.01.
Mateo Cerritos Gatto was third in the 400-meter dash in 58.0 seconds.
Grant Shader placed fourth in the 1,600 run in 5:27.47 while Waddy was fifth in 5:29.21.
Nathan Kovacevic was fourth in the 800 run in 2:21.45.
DaQuan Robinson took fifth in the 200-meter dash in 25.38 seconds.
Deontez Jenkins was fourth in the high jump at 5 feet, 6 inches. Brody Sharp was fifth in that event at 5 feet, 4 inches.
Tano Unpingco was sixth in the discus with a throw of 97 feet, 8 inches.