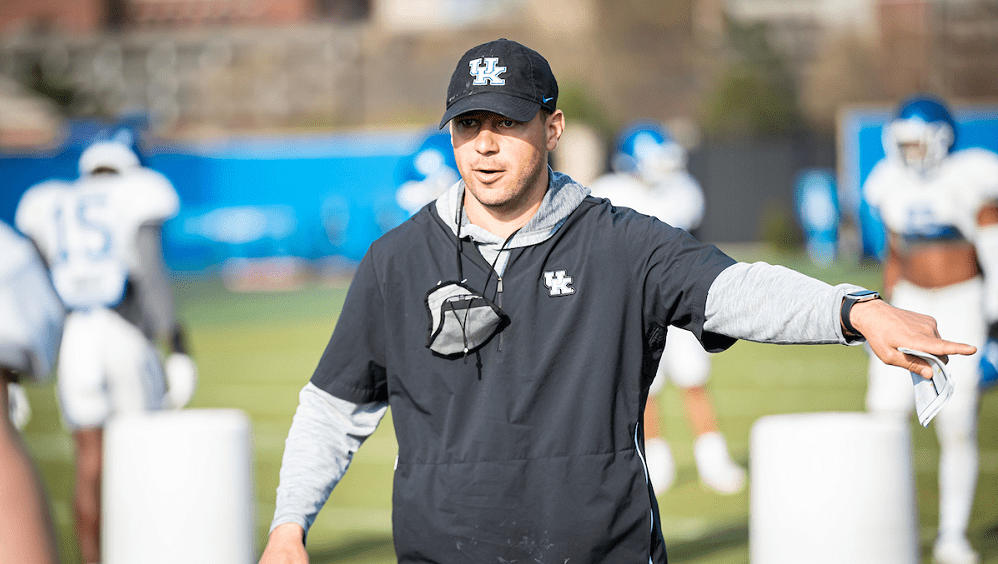 Jon Sumrall is glad in-person recruiting is finally back. (UK Athletics Photo)
Now that Kentucky has had its first summer football camp in about two years, I know that UK linebackers coach Jon Sumrall is a happy man.
Why?
Because Sumrall is a dedicated, successful recruiter and not being able to have in-person contact with recruits and their families due to COVID protocols made it hard for him to do his job the way he likes to do.
"The hardest thing with recruiting during COVID was losing that in-person contact. It made things so much more challenging than being able to go watch a player work or bringing him to camp to see how he fits," Sumrall said.
"If you get to go watch a kid practice, you can see his talent but also his leadership qualities and other intangible things that help you make a whole lot better evaluation.
"It's going to be so great to get guys on campus this summer to help with the evaluation process. Getting kids to camps can help you so much."
Sumrall said he likes to "evaluate the whole process" and be able to recruit players who "add value to the culture" of the UK football program.
"We are looking for guys who are self-motivated and excited about football," Sumrall said. "In a home setting, you can evaluate how a young man speaks to his mom and things like that."
Sumrall says coaches can make phone calls to gather information on a recruit's character.
"Stones can always be turned over in different ways to gather information. During COVID it looked a little different than the past but now hopefully we can get back to doing things how we used to and having camps is a big part of that," Sumrall said.