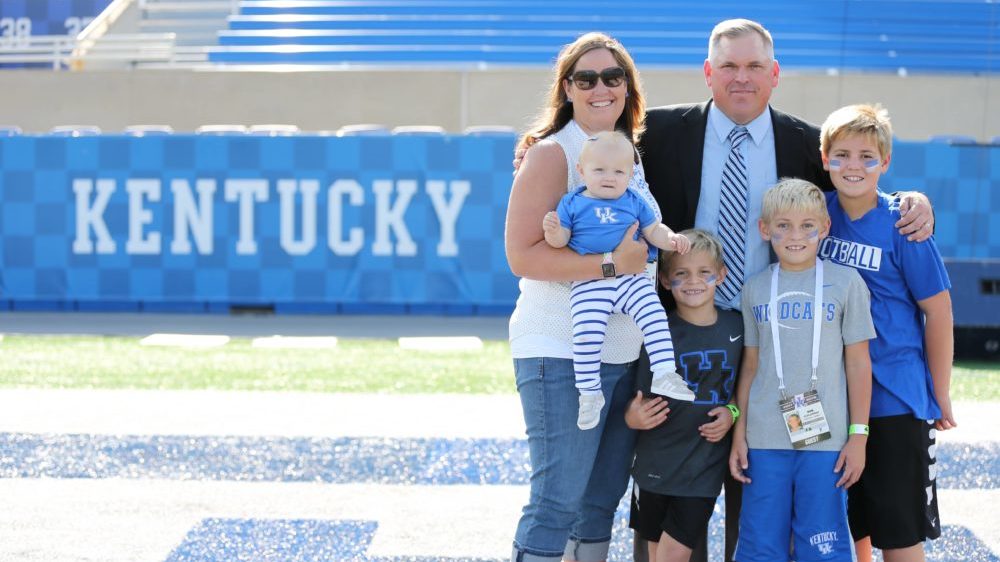 John Schlarman with his wife and children before his passing last season. (UK Athletics Photo)
It was about a week ago that vaughtsviews.com reader Susan Brock suggested that Kentucky football should find a way to honor the memory of the late John Schlarman. I thought it was a terrific suggestion and wrote about it which inspired Louisville attorney John Harralson to start an online petition asking to UK to put Schlarman's name on a Big Blue Wall. It quickly got over 5,000 signatures from UK fans.
But Monday at the Kentucky Football Alumni Golf Event Monday that was called the 'Schlarman Strong Invitational' — all proceeds went to a college scholarship fund for the Schlarman children — this year in honor of the former UK offensive line coach Mark Stoops left no doubt something is in the works to honor Schlarman.
"John personified everything you want. He embodied everything that we're looking for in a Wildcat," Kentucky football coach Mark Stoops said Monday. "He was a remarkable man and he did (things) his own unique way."
Stoops said not to worry about UK doing something to honor Schlarman, who died last season after a two-year bout with cancer.
"I don't want to come off as a jerk here, so thank you, but nobody needs to sign a petition," Stoops said. "I think we do a pretty good job of honoring people and doing what we need to do. Mitch Barnhart, myself, Dr. (Eli) Capilouto, everybody realized the profound effect John had on the University of Kentucky and on people. We will find the right way to honor him and do that.
"Believe me, we love him."
Never doubt that. John Schlarman was impossible not to love. His wife, LeeAnne, has been touched by the overwhelming love shown for her family since the death of her husband.
"It's really overwhelming to see all these people come out for John and for us and for the university," she said before the event Monday. "We knew John had a big impact but didn't really know what kind of impact he had until, unfortunately, now. It's been amazing. We feel the love and support from everybody."
That is all Harralson was trying to do with his petition.
"My petition was not meant to imply UK wasn't going to honor Coach Schlarman in a permanent & meaningful way. After reading @vaughtsviews on the subject, I thought petition was an easy way to get my Big Blue Wall idea out to folks who matter & it took off, lol #BBN @UKCoachStoops," Harralson posted on social media.
And now we know that is going to be done.