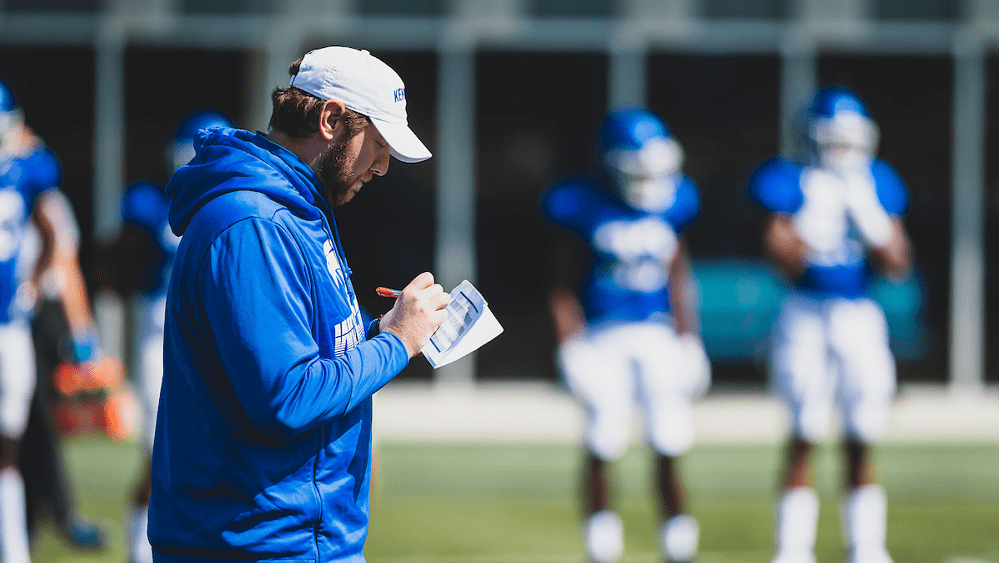 Liam Coen (UK Athletics Photo)
Some offensive coordinators prefer to be in the press box during games to have a better view of the overall field. Other offensive coordinators like being on the sideline where they can more easily interact with players before they go on the field or right after they come off.
First-year Kentucky offensive coordinator Liam Coen indicated during spring practice that he was not yet sure where he would be on game day next season. However, I just have a feeling he's more of a sideline guy than a press box guy based on things he has said and his mannerisms.
Coen said he has worked games both from the press box and the sideline.
"It's big to have somebody upstairs (in the press box) but you also have to have someone on the sideline players trust," Coen said. "I have done both. I have called games from up top and from the sideline."
Coen said leadership on the sideline is important. It's also important to him to be able to look players in the eye when he's talking to them during a game versus talking on headphones.
"I am a little bit of a Type A guy and if a quarterback wants that around him, I will be on the sideline," Coen said. "If he (the quarterback) wants to stay away from me, I understand that too."
Coen is a realist. I like that. His ego won't dictate where he coaches from during games. Instead, he'll let the starting quarterback — whoever that turns out to be — dictate where he will be during games.
"I believe I should be like a caddy in golf," Coen said. "Give him (the quarterback) the tools to help him. Next play. I don't want craziness to go on on Saturdays, so sometimes me being in the (press) box on Saturdays might be better for everybody."