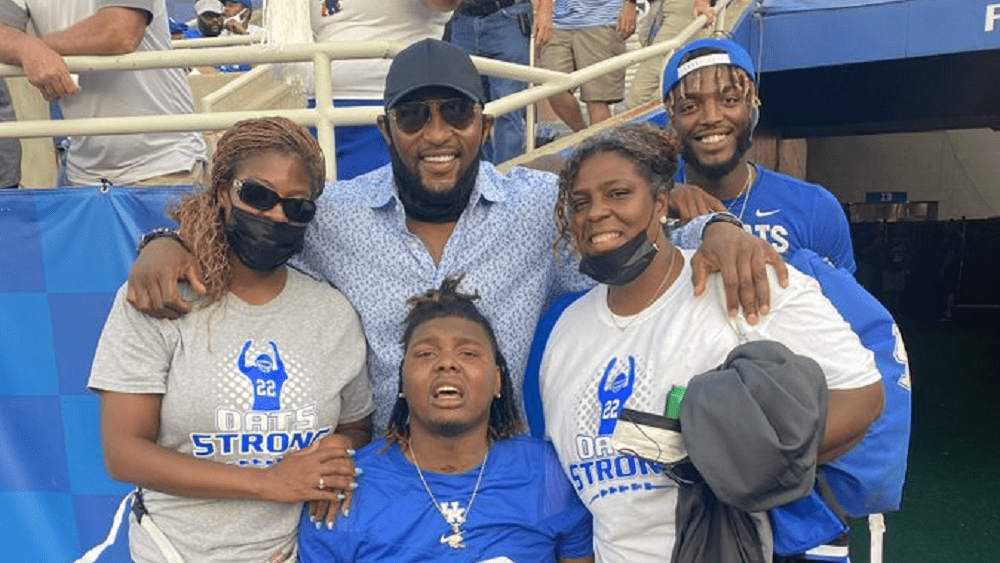 Chris Oats and his family with former NFL linebacker Ray Lewis before Saturday's game. (Twitter Photo)
Kentucky football fans, and others, have already helped UK linebacker Chris Oats and his family as he goes through rehab following his health issues last summer that kept him from playing in 2020 and again this season.
Oats was at Saturday's game when Kentucky beat Missouri 35-28 and even got to meet former NFL linebacker Ray Lewis, who has two sons on the team, before the game. That's a moment his mother, Kim, cherished along with a lot of folks at UK.
"As a mom, this pulled on my heartstrings so much you'll don't know how much this meant to my son he as always wanted to meet him thank you Mr.Ray Lewis for making this day special for us Love you BBN NATIONS," Kim Oats posted on Twitter.
Kentucky coach Mark Stoops has encouraged UK fans to help the family financially and did so again Monday at his weekly press conference.
"We need to help Kim more than she needs to help us, truthfully. I wanted to put that message on the (video) board (at Kroger Field) last week and I wanted to revive that because this is real," Stoops said. "I don't know what we can help in the state and what we need to do with insurance, our university is amazing.
"Mitch (Barnhart) and Marc (Hill) and all these guys are amazing doing what we can do, and we all have. But it's monumental, the help that she needs."
Stoops shared a story to illustrate why the family needs help.
"When I heard that we had gotten her a handicap accessible van to get Chris to his rehab and everything and it broke down on her on the highway and she can't get him to rehab, that's a problem. That's when I called on the Big Blue Nation (to help)," Stoops said.
"Certainly, I'll do my part, and everybody will, but I need the help of the BBN."
Oats was expected to be UK's star linebacker in 2020 before he was hospitalized and unable to play. Instead, Jamin Davis became the starter and turned into an NFL first-round draft pick by Washington.
Now Stoops wants Big Blue fans to remember him and his mother.
"She's amazing. She has to do an awful lot for him right now. And we love him, and we love her," Stoops said Monday. "They're an inspiration to us but we need help. I think we're getting it to a tax-sheltered portion of it this week. If I'm not mistaken, I'm not going to talk about it, but we are working on that. We need to.
"I need to call in some of my friends that can do it. She needs some major help. We appreciate it and we want to take care of her."
* * *
The GoFundMe page organized by Kentucky tight end Keaton Upshaw had raised $122,236 of a $150,000 goal by late Monday night. Here is the link if you would like to donate: https://www.gofundme.com/f/22oatsstrong.