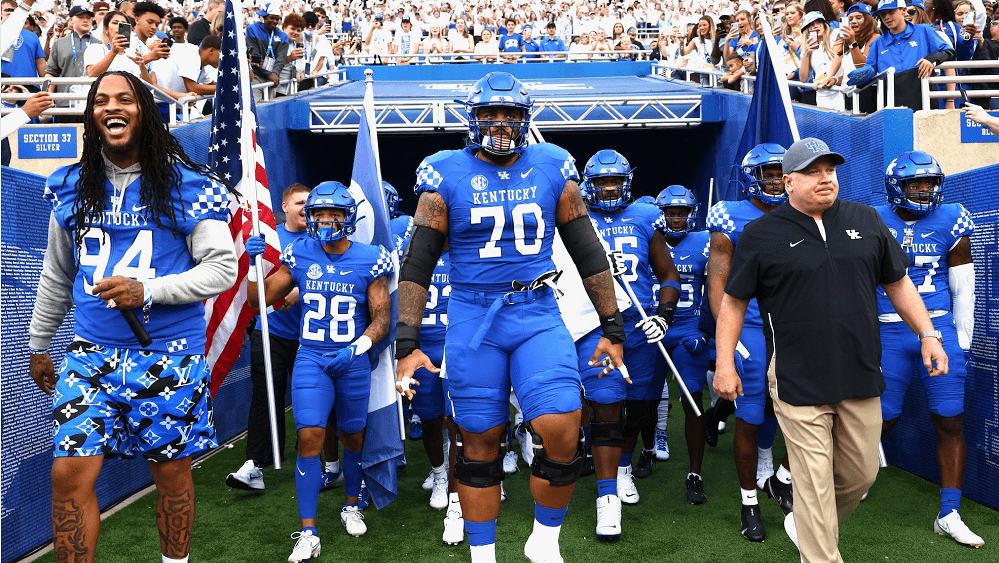 Rapper Waka Flocka Flame led coach Mark Stoops and his team on the field before the game and then celebrated with the Cats after the 20-13 win over Florida. (UK Athletics Photo)
Not saying Kentucky fans should have stormed the field after Saturday night's 20-13 win over No. 10 Florida, but it certainly made sense that they did.
— Kentucky had lost 15 straight games against top 10 teams since beating South Carolina in 2010.
— Kentucky had not defeated Florida in Lexington since 1986 in 16 trips to the Bluegrass.
— Florida had won 33 of the last 34 games against UK with the only Kentucky win coming in 2018 in Gainesville. The Gators were 39-2 in the last 41 years against the Cats.
This time, though, the football gods that have been so unkind to Kentucky football over the year smiled on the Cats and even got a little help from some celebrities. It started on ESPN's College GameDay. Show regulars Desmond Howard, Lee Corso and Kirk Herbstreit all picked Florida. Golfer Harris English, the guest picker after helping the U.S. win the Ryder Cup, went with the Cats in an upset.
Kentucky also brought in Waka Flocka Flame, the rapper who sings "Grove Street Party" — a song UK football fans have adopted since a 2014 home game win over South Carolina. He helped bring the team on the field before the game as the song was being played and then was on the field celebrating with fans and UK players after the win.
"It was cool having him here," UK coach Mark Stoops smiled and said after the game. "We were jamming in the locker room. He was in there just now."
But stop and think about all the things that happened for Kentucky that never seem to work this way. There had to be some divine intervention.
— After a Will Levis interception with Florida already leading, it seemed certain the Gators would extend the 10-7 advantage. Instead,  Josh Paschal made the tackle for a third down stop that forced a field goal try and then blocked the field goal. Freshman Trevin Wallace picked it up and raced 72 yards to paydirt. What looked like it would be a 17-7 or 13-7 Florida lead turned into a 13-10 UK lead (the Cats did have the extra point blocked).
— With Florida driving, linebacker JJ Weaver picked off a Gator pass but fumbled when he was tackled. Teammate Tyrell Ajian, not a Gator, recovered the fumble. Also remember that earlier in the game it looked like Weaver might be called for targeting before the review cleared him.
— Kentucky didn't have a third down conversion until quarterback Will Levis handled a bad snap, kept his poise and kept the ball to pick up the first down. Two plays later Chris Rodriguez scored on a 9-yard run. If Levis had panicked, UK would have likely settled for a field goal and only a 16-10 lead.
— Or think about a Florida receiver slipping as he caught the ball and his knee barely hit the ground inside the 10 for a 4-yard loss on a play he likely would have scored on. That never goes UK's way.
— But the best way to know the football gods were with Kentucky was that Florida had eight false start penalties. Five came on third down and another one was on fourth down. Think about when the last time a top 10 team probably did that.
Credit Mark Stoops for thanking the Big Blue fans to start his postgame press conference.
"They really showed up and affected the game in a very positive way," Stoops said.
He said the false starts were directly related to the crowd noise and home-field advantage.
Yet it is still hard to imagine Florida having 71 offensive plays to UK's 45 and the Cats still winning.
It just comes down to something former UK all-SEC running back Anthony White said last week on WLAP Sunday Morning Sports. He said then UK could still have a special season but it might be ugly without the offensive explosions many UK fans anticipated.
He was right. Kentucky relied on defense, crowd noise and maybe a few of the right bounces that so many times have gone against the Cats to get the biggest home win of the Stoops' era.
So what kind of celebration plans did the coach have?
"I am sure I will have an adult beverage," he joked.