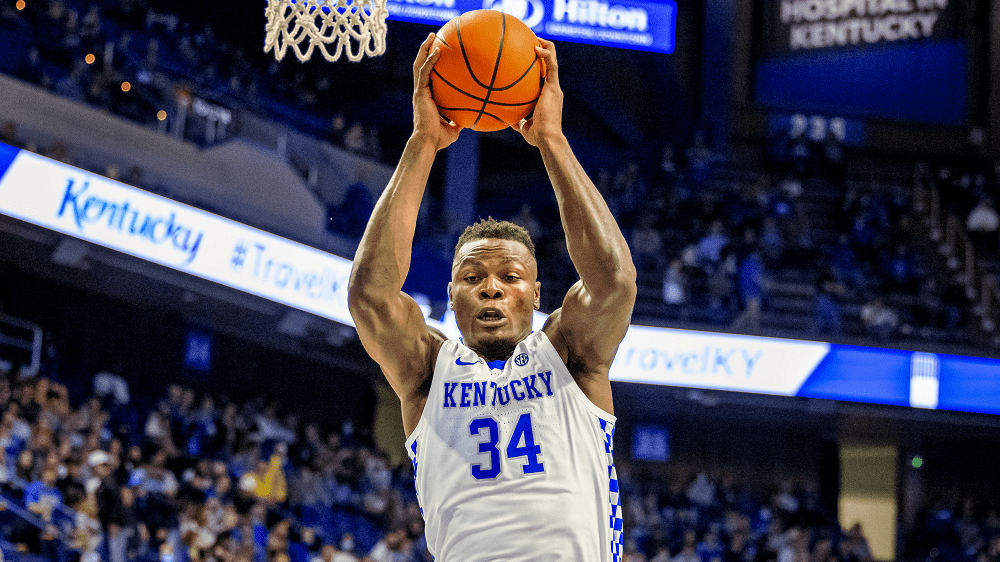 Oscar Tshiebwe (Jeff Houchin Photo)
Kentucky basketball fans are going to love the rebounding, defense and inside scoring that Oscar Tshiebwe is going to provide for the Wildcats this season. However, Kentucky fans are also going to grow to love his honesty and humbleness when he talks about himself or the team.
Remember Tshiebwe almost came to Kentucky after his McDonald's All-American high school career in Pennsylvania. Instead, he picked West Virginia, had a superb freshman season and then transferred to UK midway through his sophomore season.
"Sometimes we make a plan but God has different plans for us," said Tshiebwe. "No matter how much you try in life, if God say no, it is no. You are not going to change God's mind.
"I think I made the decision I wanted. God gave me what I wanted but I changed it up from what I wanted to what I thought other people wanted me to do. That is why I ended up at a place that was not where God wanted me to be. When I decided to leave, this place was still here for me. I am so excited I am here."
Tshiebwe, who is from the Democratic Republic of the Congo, said West Virginia was a "good place, good program" but just turned out not to be the right fit for him.
"We played mostly two bigs down low and that was not good for me to catch the ball and make a move to the rim," Tshiebwe said. "Here we play one guy inside and four outside. I have time to go one on one with my guy and if the double team comes I just kick the ball out and they will have a free shot and I can get the rebound.
"I love this team. This team shoots the ball well. I love it. I say, 'Shoot the ball.' I tell them all the time, 'Do you know how I am making money?' I am making money with rebounds. If you don't shoot the ball, I won't be able to rebound. We shoot the ball a lot and I am down there and I know how to position myself for rebounds."
He provided that in the Blue-White Game when he had 25 points and 21 rebounds, both team highs, and matched his goal of averaging 20 points and 20 rebounds per game this season. Fourteen of his rebounds in the Blue-White Game came on the offensive end and led to him making 12 of 15 shots. He had 11 points and 10 rebounds in just 17 minutes in the exhibition win over Kentucky Wesleyan Friday.
Kentucky coach John Calipari and his staff have emphasized to Tshiebwe — like they do all big men — to rebound with two hands, not one.
"Coach demands that I go up with two hands and snatch the ball. It has been difficult because most of the time I just go out and grab what I want. Coach be like, 'Go with two hands,'" the UK junior center said.
"It has been good because it makes me focus. It is hard when you go with two (hands) for somebody to take it from you. If you go with one, they might get it. I have been doing great going with two (hands). As soon as it is mine, it cannot be taken by someone else."
So is there anybody who could take the ball from him if it uses two hands?
"I don't know. Probably God," Tshiebwe said. "They try on this team so many times (to take the ball). Sometimes you might go with one (hand) and you lose it but when you use two hands they can't take it from me."
Tshiebwe enjoyed his first Big Blue Madness — "I had fun. I even danced a little bit," he said — and felt the same about the Blue-White Game — "We just showed people what we can do. We got more (to give) and we got a lot of energy to compete with others," he said.
The center admitted it had been a long time (December of 2020) since he played in a game and he can't wait for UK to open the season against Duke Nov. 9.
"I give people message. It has been a long time since I played. I have been working and getting better. I am so excited to go back to playing," he said. "Lexington is great place and I have enjoyed my time here. Great people, People care about you. People want to help you, want you to get better. That's why I am so excited and cannot wait to play basketball to show them what I can do."