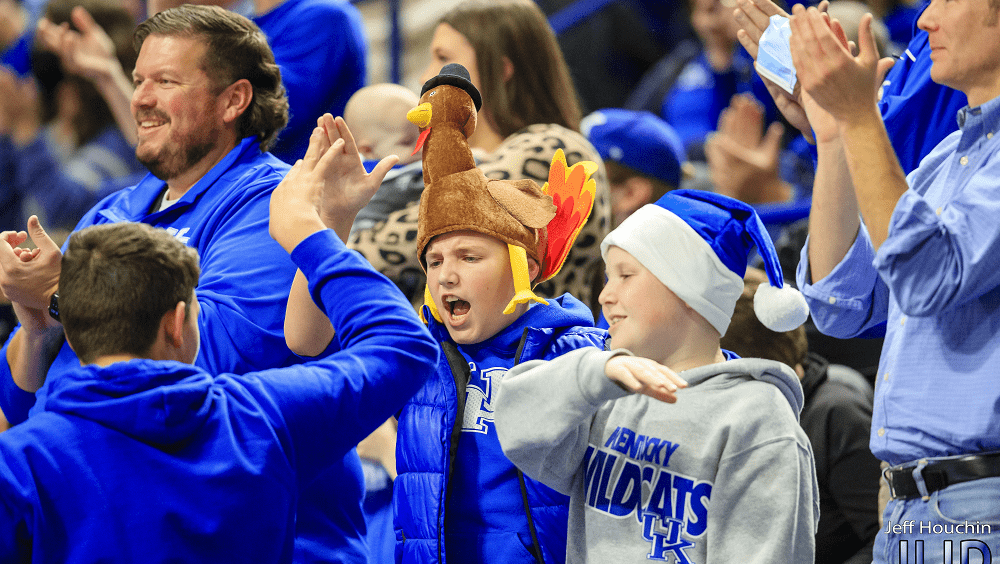 John Calipari and UK players are glad to have fans back at Rupp Arena. (Jeff Houchin/Nolan Media)
Kentucky basketball players got a taste of what Rupp Arena could be like this season with close to a capacity crowd of boisterous Wildcat fans. Kentucky overcame a first-half deficit to beat Ohio 77-59 and tonight will host Albany.
Coach John Calipari said again after Friday's win that anyone who has tickets and cannot attend a game should give them to someone who can come.
"Call the local grade school and see if the principal wants to give them away. Again, I don't blame anybody for not coming to the games because of COVID, because of the construction, and traffic, because now you can watch it on TV," Calipari said.
He joked — I think — that UK has an "old crowd" of fans.
"If they've got to walk 200 yards to get in a door to get in the arena to walk another 100 yards, you would do it? I wouldn't do it. I just know me. What if it rained? I'm not walking 200 yards to get in the building," the UK coach said.
"So I get it (why fans don't come). Here is my point: Give them away. This was a great environment for people to be in and for all of us, these kids and our – we've got the best fans in the country. Just don't sit on the tickets. Give them back to the university. Maybe we'll do something with different schools or give them out for awards. They're bought already, so give them away.
Kentucky recently put five-game ticket packages on sale hoping that would attract fans to buy available tickets for select games.
Calipari said he understood fans don't like "tune-up games" — he means games against overmatched opponents like the one tonight against Albany — even though he's right about all major teams having them.
"Kentucky should play the Lakers and the Suns. Okay. But they've got packages now. So, if you want to go ….," Calipari said.
The coach has also heard fans complain that rather than Friday night games maybe UK could play on Sunday.
"Here was the other thing. I think we need to play some Sunday games instead of Friday. You know what I'm saying?" Calipari said.
He even asked if there was "still football for high schools" on Friday nights. Come on Coach. Surely you know the high school football playoffs start about the same time UK begins playing basketball every Friday night.
However, his next reason for why fans might not be coming was really a stretch.
"Style of play maybe. They (fans) don't like us to play this fast and press and shoot and do it. Come on," Calipari said.
Come on indeed. Kentucky fans love fast-break basketball and have from the days Adolph Rupp started using it.
"Again, I don't know, but if you get a chance to buy tickets and you can commit to saying I'll buy them and I just want to make sure I can buy them every year because it will be like normal, we get through this COVID," Calipari said.
"A little worried about the winter (with COVID). I keep hearing stuff. But what you saw tonight, you know. I'm proud of our fans. I always am. Always am. We got the best."
Sixth-year senior guard Davion Mintz didn't get to experience a typical Rupp Arena crowd last year. He liked what he saw and heard against Ohio. 
"It was super fun. I mean, just to be out there was like having like an extra player out there," Mintz said.  "These people really care about us and we can feel the energy and it just goes straight out to the court.
"So I really appreciate all the fans that we have and come out. I mean, it's all 40 minutes from the tip to finish so I appreciate you guys."