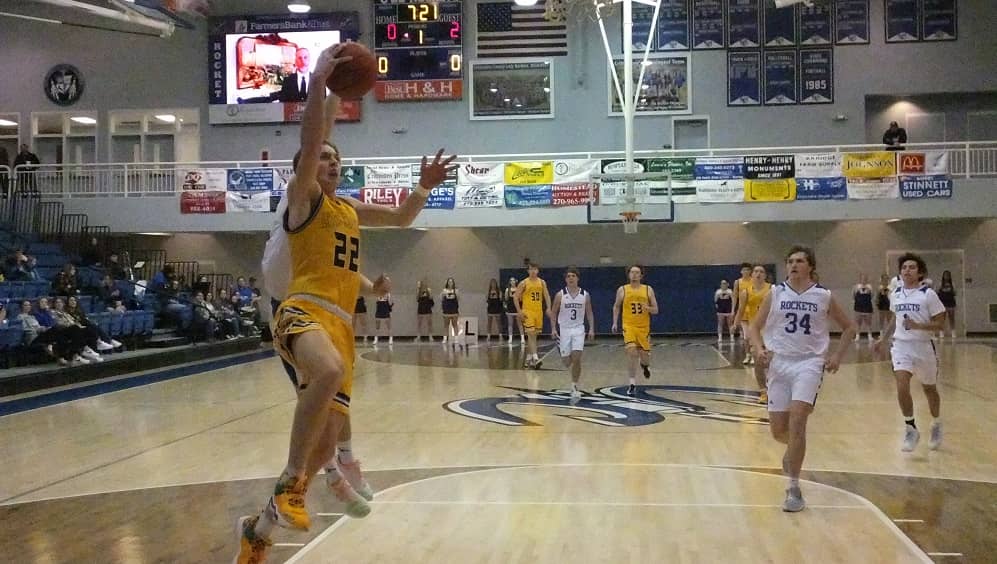 After a 38-point victory over 5th-District rivals Crittenden County last week, the Lyon County Lyons looked to be in for a tougher night in the early stages of Tuesday's 2nd Region All-A matchup with the Rockets.
However, the Lyons closed the 1st half on a 12-0 run to build a 19-point halftime advantage and held on for a 75-63 victory.  The Lyons win their third straight to improve to 8-4 with a big trip to Madisonville-North Hopkins coming up on January 18.
Crittenden drops its third in a row to slip to 6-7 overall and will hit the road on Saturday to face Trinity (Whitesville).
Travis Perry had a pair of 3-pointers in the opening minutes and the Lyons led 10-4, but Travis Champion and Tanner Beverly combined for eight points to keep the Rockets close.
Jack Reddick converted a 3-point play to give the Lyons a 10-point edge late in the quarter, and they led 24-15 after one.
Lyon County maintained a 10-point cushion for much of the 2nd quarter, but the Rockets were within seven with 2:45 left in the half after a 3-pointer by Beverly.
Perry answered with a 3 to jumpstart the decisive 12-0 run to end the half.  Jackson Shoulders had five points and Perry added four more to help the Lyons to a 47-28 advantage at the break.
Lyon was never threatened in the 2nd half, stretching the margin to 22 and forcing a Crittenden timeout after a Brady Shoulders 3-pointer early in the 3rd quarter.
Leading 70-47 after a Jackson Shoulders' 3-pointer, the Lyons took their foot off the gas and Crittenden made up some ground.  Champion scored 10 of his team-high 21 in the 4th and Trace Derrington added 6 to get the Rockets within 12 at the final buzzer.
Lyon County          24    23    18    10 — 75
Crittenden             15     13     15    20 — 63
Lyon County (8-4) — Perry 29, J. Shoulders 21, B. Shoulders 10, Reddick 7, Downing 4, Breedlove 3, Gilbert 1
Crittenden County (6-7) — Champion 21, Beverly 13, Derrington 13, Adamson 5, Cider 2, Morgeson 1