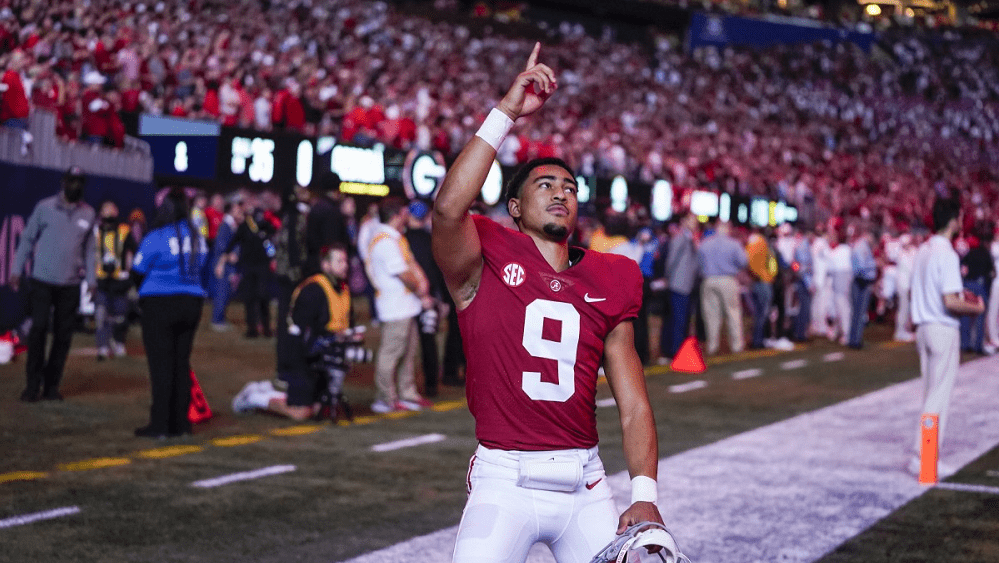 Bryce Young offered no excuses other than his failed execution after Alabama lost to Georgia. (Alabama Athletics Photo)
Bryce Young had a lot to celebrate this season at Alabama from a lucrative name, image, and likeness deal to winning the Heisman Trophy to leading his team to the Southeastern Conference championship. However, he was bitterly disappointed Alabama lost 33-18 to Georgia in the national championship game and put much of the blame on himself even though he completed 33 of 57 passes for 369 yards and one touchdown.
Young showed he could be classy in defeat just like he has been when Alabama won.
He wouldn't use the injury to receiver Jameson Williams as an excuse even though anyone watching the game could see what an impact that had on Alabama's offense.
"I'm tremendously proud of how we played offensively, how people stepped up. I'm tremendously proud of how everyone around me played," Young said.
Now here comes the part that really impressed me.
"It's on me to perform better. People stepped up in big moments when they were supposed to. And we had chances, had opportunities. And at the end of the day, I didn't get the ball into the end zone. And that's on me," Young said.
"I love my guys. I'll forever love my guys. I wouldn't trade my guys for anything. And I'm — it's a little tough that I let them down today. But I love those guys and they stepped up. Adversity has been our thing all year. I've just gotta do better with it."
What about that? The Heisman Trophy winner saying he let his team down. No finger-pointing. No excuses. Just put the blame on himself.
"We had a lot of opportunities, moved the ball relatively well. We did some stuff well. We didn't execute. And at the end of the day that's on me. For us not finishing drives like we want to, it's just not executing," Young said.
"We worked tremendously hard, and the guys around me all worked super hard. And I don't feel like they deserve this. So it's something that I have to take from. And I'm just proud of my guys. I love my guys, every one of them, both sides of the ball. I wish I could have been better for them tonight."
Coach Nick Saban praised the way Young played. The quarterback still wouldn't let up on himself.
"Didn't execute. And the ball touches my hands every play. It's my job to put the ball into the end zone. I wasn't able to do that," Young said. "So it was different things. But at the end of the day, as leaders, it's on me."
Not sure about you, but it's easy for me to see why Alabama players love Young so much and hopefully young athletes will pay attention to how a superstar handled the biggest defeat of his career.