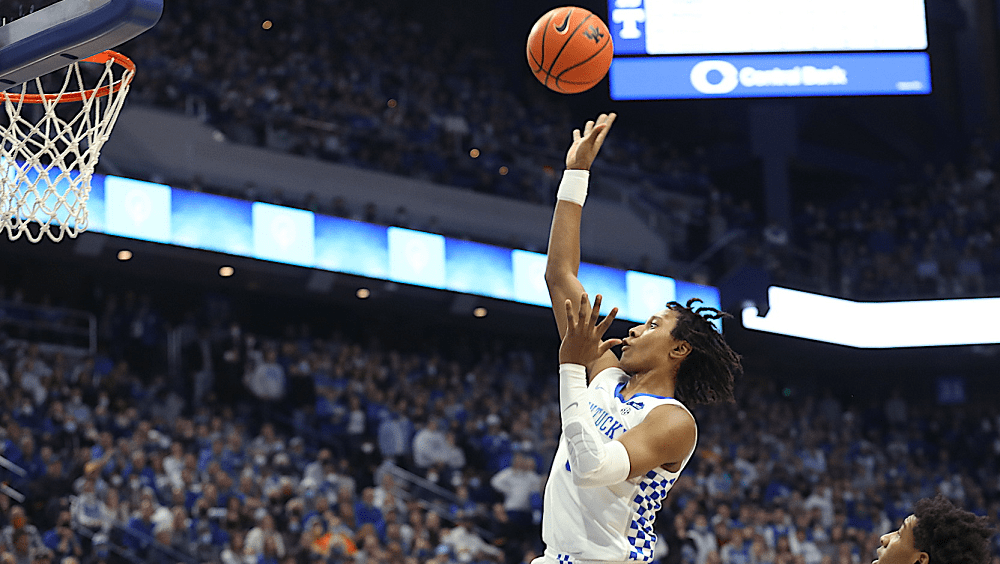 TyTy Washington has made his first shot in 11 straight games. (Vicky Graff Photo)
It was important for Kentucky to prove to the nation that it could handle a top 25 team. However, it might have been even more important for Kentucky to prove that to itself.
"I feel like we proved not only to other people, but to ourselves, that you know we can play with anybody in the country. We've always felt like we can play with anybody in the country, not just us beating up on smaller schools," Kentucky guard TyTy Washington said after Saturday's 107-79 win over Tennessee.
"We've always felt like we can compete with the best of the best, and it felt like tonight we showed that."
Kentucky did and again Washington was there to lead the way.
He had a career-high 28 points on 10-for-13 shooting from the field and 6-for-6 at the foul line. He also had five assists and three steals. It was his fourth 20-point game and 13th overall game in double figures.
Washington is averaging 16.2 points, 4.5 rebounds and 4.9 assists per game while shooting 56 percent from the field in  UK's last 14 games. He is averaging 6.1 assists per game in the last 10 games, including his record-setting 17-assist game.
Washington was matched against highly-touted Tennessee freshman Saturday and easily was the best player. He says those matchups really do not change his approach to how he plays.
"I feel like the first fight is always with yourself. If I could just get the mentality that I'm going to destroy whoever is out here in front of me on both sides of the ball, I just feel like I'm going to have a good game," Washington said. "I wasn't looking at it as a big "Kennedy Chandler versus TyTy Washington matchup.' I was looking at it as Kentucky versus Tennessee. I knew I had to come out aggressively to get the win."
Washington said UK's recent offensive success is simple — the Cats are making shots and executing.
"Players have to show up in games. At the end of the day, it's really about players making shots. Over the course of practices, we've been doing shooting drills and making sure us shooters are shot-ready, getting the ball off quick, just really making the shots, and shooting the ball straight, as Coach Cal says," Washington said.
"So as long as you shoot it straight, you have a chance. We really can't rely on Oscar [Tshiebwe] all the time to try to carry us in big games. A lot of other guys really have to step up as a whole, and we all pinpoint that and feel like that's what we did today, and we executed."