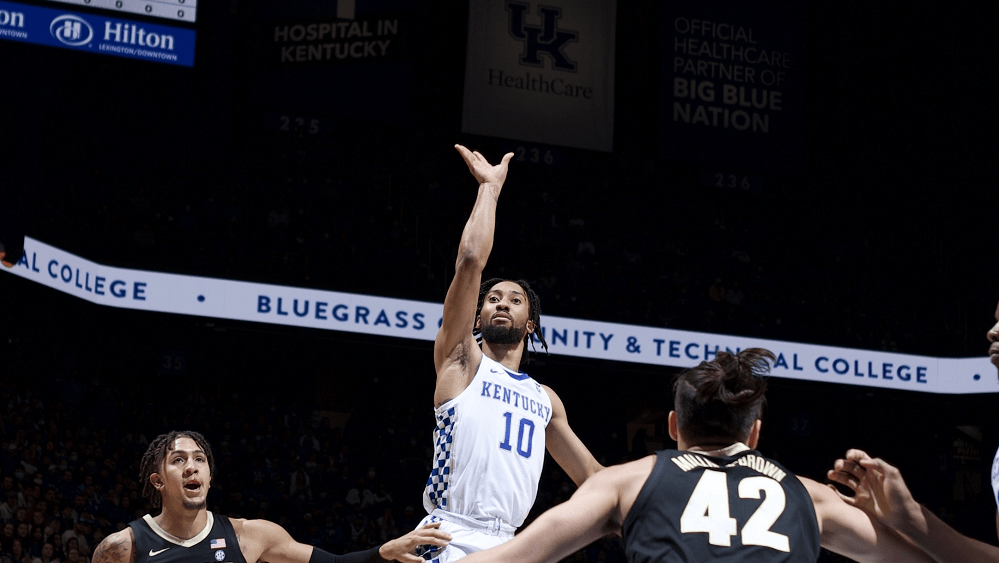 Davion Mintz got a confidence boost from a young fan after UK's win at Kansas. (UK Athletics Photo)
Davion Mintz scored a career-high 21 points on just 11 shots Wednesday night when Kentucky beat Vanderbilt 77-70 in perhaps his best overall game at UK. He was 6-for-11 overall from the field, including 4-for-7 from 3-point range, and 5-for-5 at the foul line. He also had three rebounds, two assists and zero turnovers in 34 minutes.
Kentucky coach John Caliipari said he had an "unbelievable" game and said he needs other players to play with the physical toughness that Mintz does.
"If the guy (on the other team) hits me, I stop and run back," Calipari said about some of his players. "He (Mintz) doesn't. He just is relentless. And he also runs the floor."
But the best part of the big game Mintz had was what the senior guard revealed was his motivation for this special game.
"Honestly, it was right after the Kansas game. I was walking out of the locker room and there was a little girl. She was probably a young teenager. She was crying her eyes out as she was walking up to me," Mintz said.
"I asked, 'What's going on?' She was like, 'I'm just so excited to meet you. This is my first time meeting my favorite player. I've been waiting a year.' And I had zero points. I didn't really even play a full half of a game.
"My heart was kind of heavy because I knew I had been struggling for a while. Just to realize God made me somebody that can make someone else feel special about themselves, that just sent me over the top. My parents saw and my cousin who was there also saw. She couldn't even keep herself together. That just meant so much to me that it meant so much to her.
"That right there is what motivates me. People could feel so special about themselves, and it made me work harder in the gym. So that's what turned out for today. So, thank her, if she's listening right now."
Say amen Kentucky basketball fans. How could you not love this story?
"I'm extremely happy and proud of Davion. I know it's been tough for him sometimes, but then he's been sticking with it and fighting through and tonight was his night," teammate Keion Brooks, who had 20 points, said.
"You just wait your turn and fight through and good things are going to happen for you and that's exactly what happened for Davion. He was aggressive. He made shots, But he always plays defense, he always rebounds. He does a lot of stuff that probably doesn't always show up in the stat book. But tonight it was good to see him really get off making some shots."
Especially knowing Mintz has a special young fan supporting him just as much when he scored no points as when he scored 21 points Wednesday night.