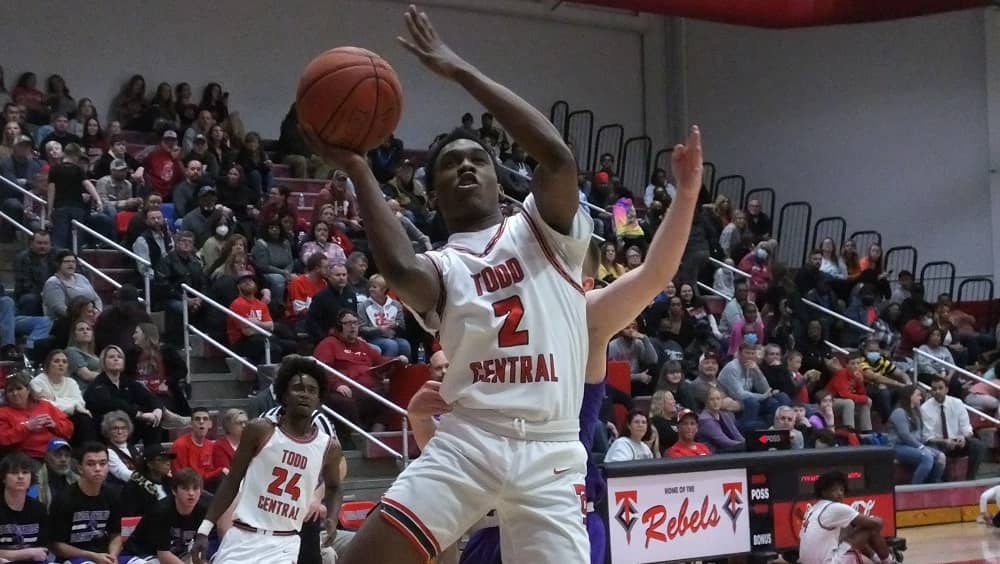 It's been three seasons since the Todd County Central boys' basketball team appeared in the 4th-Region tournament, but after a 22-7 regular season and an All-A region title, the Rebels look primed to make a run at their first 13th-District title since 2017/18.
Todd Central, winners of six of seven, begins its playoff journey on Tuesday vs. Russellville at Logan County High School.  This year, the Rebels took both meetings with the Panthers, winning 65-32 in Elkton and 62-54 on the road.
Sophomore Jamison Glass leads the Rebel attack, averaging team-highs in points (12.9) and rebounds (7.6).  Preston Moore does a little bit of everything for the Rebels, posting just under 11 points and five rebounds per contest and knocking down a team-high 36 3-pointers at a 32.4% clip.
Mareke Johnson scores seven points per game, and fellow senior Amari Andrews adds six points and a shade under four rebounds.  Preston Rager chips in five points, and Perez Whitlock averages almost five per game.
The Rebels shoot 43% from the field and 28% from behind the arc.  They connect at 58.6% from the free-throw line.
While Todd Central appears to be playing some of its best basketball of the year at the right time, Russellville is trending in the opposite direction with seven-straight losses.
Jovari Gamble leads the Panthers in scoring with just under 10 per game and pulls down five rebounds per outing.  Lennon Ries is next with almost eight points per game, followed by Eli McMurry with 6.4.
Russellville shoots 41% from the field, while topping the Rebels at 31.7% from 3 and 62.8% from the charity stripe.
Tuesday's winner will face top-seeded Franklin-Simpson in Friday's championship game.  The Wildcats were 56-37 winners over Logan County in Monday night's first semifinal.
Franklin-Simpson handed Todd Central its only two district losses of the season, winning by a single point in Elkton and taking a 67-55 victory at home.
The Wildcats stand at 17-8 on the season, led by Andreyas Miller with 19 points per game.  Jalen Briscoe puts up 14 points and a team-high 7.2 rebounds per contest, followed by Gabe Jones with just under 12 points per outing.