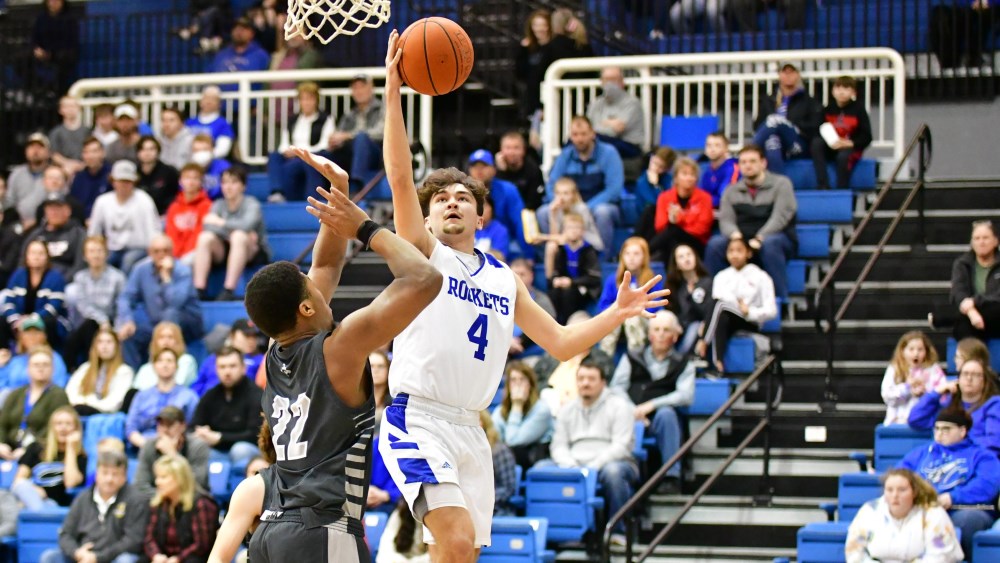 Trigg County had rallied to beat Crittenden County earlier this year. And it looked Tuesday as if they had another comeback in them as they erased a 14-point second half deficit. But the district tournament was a different story as the Rockets held on to beat Trigg County 55-54 and advance to Friday's championship game against Lyon County.
Trigg County led by six points in the first quarter, but the Rockets took control in the second quarter and gained a 26-22 advantage at intermission.
Hayden Adamson hit three 3-pointers in a row to push the Rocket lead to 44-30 with 3:03 left. Trigg answered with a 19-6 run of its own fueled by sophomore Jhaden Vaughn who scored 11 straight points in the run.
Down 53-52 with 1:39 left, Travis Champion hit two free throws to give the Rockets a three-point lead. Trigg missed a three-pointer and a put-back with 21 seconds left, but Crittenden missed the front end of a one and one, and Trigg held for the final shot.
They would never get off a shot as a turnover with four seconds left gave the ball back to Crittenden. Trace Derrington was fouled with 2.5 seconds left but missed the front end of the bonus. Trigg got the rebound but missed a long three-point attempt near half court at the final horn.
Vaughn finished with 25 points and 14 rebounds as the Wildcats shot 59% from the floor in the second half and 47% for the game. Kendric Adams added 13 points.
The difference proved to be Crittenden County's accuracy behind the arc.  They had four 3-pointers in each half and Adamson hit five of his own to finish with 17 points. Champion scored 22 to lead the Rockets who only had three turnovers in the contest.
Trigg County's season ends with a record of 14-14. They will miss advancing to the district championship for the sixth straight year. It's the longest region tournament drought for the Wildcats since 1989-94.
Trigg County's three games this season with Crittenden County were decided by a total of four points. The Rockets and Lyons will meet Friday at 7 o'clock at Rocket Arena for the district championship.
Trigg County                          12        10        19        13–     54
Crittenden County               12        14        20        9–       55
Trigg County [14-14] – J. Vaughn 25, Adams 13, K. Vaughn 8, Gude 3, Shearer 3, Washer 2
Crittenden County [14-15] – Champion 22, Adamson 17, Morgeson 11, Derrington 2, Cooksey 2, Beverly 1