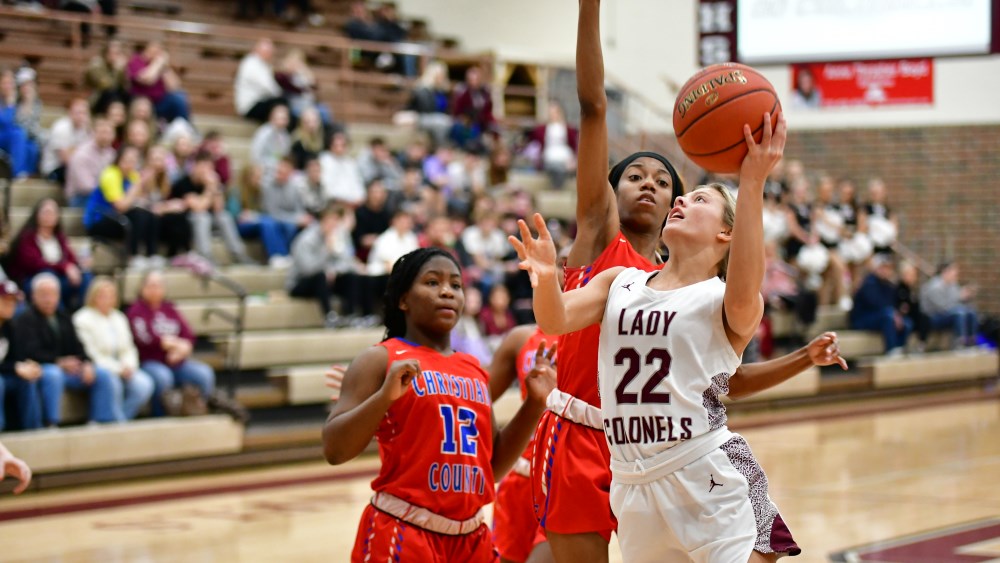 Henderson County came into to girls' 2nd Region basketball tournament as the favorite, and they didn't do anything Monday to change the minds of many people.
The three-time defending champion used an 18-0 first quarter run to take control of the game with Christian County and win 82-39 on its home floor.
Christian County, the 8th District runner-up, played well early and took a 5-4 lead before three things changed the complexion of the game early.  Up by one point, Destinee Catlett-Watkins went to the bench with her second foul. Henderson responded with an 8-0 run to take a 13-5 lead.
Then Shaniah Bridges left with an injury, and Henderson County extended the run to 18 to go up 22-5.
But Henderson County's sharp-shooting on the night was the difference.  The Lady Colonels from the north hit three 3-pointers in the first quarter, five in the first half, and was 8 of 14 for the game.
Anaysia Bagwell hit a 3-pointer before the first quarter horn to cut the Henderson lead to 26-12.
Henderson answered with the first 12 points of the second quarter to go up 38-12.
Down 45-19 at halftime, Christian County showed some life with a 6-0 run to begin the third quarter but could never get the deficit inside 23 points the rest of the way.
Jarie Thomas led Henderson County with 16 points and 12 rebounds to pace five players in double figures. Graci Risley scored 11 of her 14 points in the first quarter, and Mallorie Veal hit four 3-pointers, including a banked-in shot ahead of the halftime horn, to finish with 14 points. Kaytlan Kemp, who has signed to play softball at Western Kentucky University added 13 points.
Bagwell led Christian County with 15 points and hit two of the Lady Colonels' five 3-pointers. Mikayah Killebrew added seven points.
The teams combined for 49 turnovers with Henderson County scoring 33 points off of Christian County's 27 miscues. Henderson also led rebounding 35-31.
Christian County's season ends with a record of 12-19. The 43-point margin is Christian County's worst region tournament loss since a 75-28 loss to Webster County in 1981.
Henderson County advances to Wednesday's semifinal with a record of 22-4. They have won 11 straight region tournament games since a 2018 loss to Christian County.
Christian County                  12        7          14        6–       39
Henderson County              26        19        19        18–     82
Christian County [12-19] – Bagwell 15, Killebrew 7, Catlett-Watkins 6, Bridges 4, McGregor 4, Daniel 2, Day 1
Henderson County [22-4] – Thomas 16, Veal 14, Risley 14, Kemp 13, Sprinkles 10, Gibson 6, Toombs 2, Tomayo 2, Gish 2, Lacer 2, J. Risley 1
Stay up to date with the latest sports news by following YourSportsEdge.com on both Twitter and Facebook.