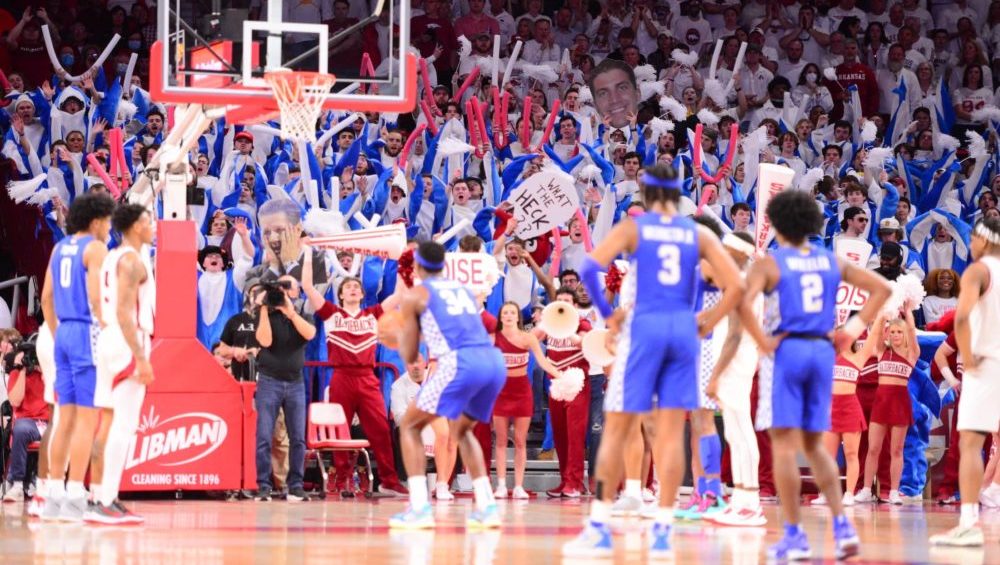 Kentucky fell behind early at Arkansas, rallied and then could not hold on despite having guards TyTy Washington and Sahvir Wheeler back. (SEC Photo)
After not having TyTy Washington and Sahvir Wheeler available the last two games, Kentucky had both back at Arkansas Saturday. Wheeler had a solid second half and finished with 14 points, five assists, and three rebounds in 29 minutes while Washington had 10 points, three assists, and one rebound. However, the two were only a combined 8-for-25 from the field and Wheeler also had three turnovers.
Kentucky lost 75-73 after beating Alabama and LSU without the two guards thanks in large part to Kellan Grady and Davion Mintz.
Against Alabama, Grady was 9-for-16 from the field and had 25 points, three assists, three rebounds, and one steal in 39 minutes while Mintz had seven points on 2-for-9 shooting from the field in 39 minutes along with two assists. Against LSU, Grady played all 40 minutes and had 13 points on 5-for-13 shooting, three rebounds, and three assists. Mintz played 38 points and scored 13 points on 4-for-10 shooting.
In the two games, Grady and Mintz combined for 58 points — or 29 points per game. At Arkansas, Mintz played only 20 minutes, missed two shots, and did not score. Grady played 30 minutes, made just one of three shots, and had only three points.
So what happened? Was there an adjustment needed with Washington and Wheeler back?
"No. I don't know how to say it. Coach (John Calipari) is a professional," said Oscar Tshiebwe, who had 30 points and 18 rebounds. "I don't think anything changed. We run exactly the same thing. We just did not start like we always started. If we could have started like we finished, it could have been easy."
Grady got two full midway of the first half and had to sit out for about 10 minutes. Coach John Calipari said Grady did not work as hard to get open as Arkansas did to defend him. Tshiebwe said it was just a "tough game" for Grady.
"They played great defense," Tshiebwe said. "Sometimes you are going to struggle. He still did what he could to help us. This was great experience for us to tell us it will not be easy. We got to go back to work to be prepared for the (SEC/NCAA) tournament."
Tshiebwe said it was a "big thing" to have Wheeler and Washington back even if UK did lose and both players were a bit "rusty" — Calipari's terminology after the game.
"I am not going to blame anyone. Coming back from injury, anyone is going to struggle," Tshiebwe said. "I am glad they are back so we can be ready for the tournament."
He said Calipari told the team it should have been more ready for Arkansas. The home team had a 15-0 run after UK scored the game's first basket.
"When you play a team like this you gotta be ready," Tshiebwe said.